Waldorf Blofeld Synthesizer 411 by www.ModulateThis.com
by
Mark Mosher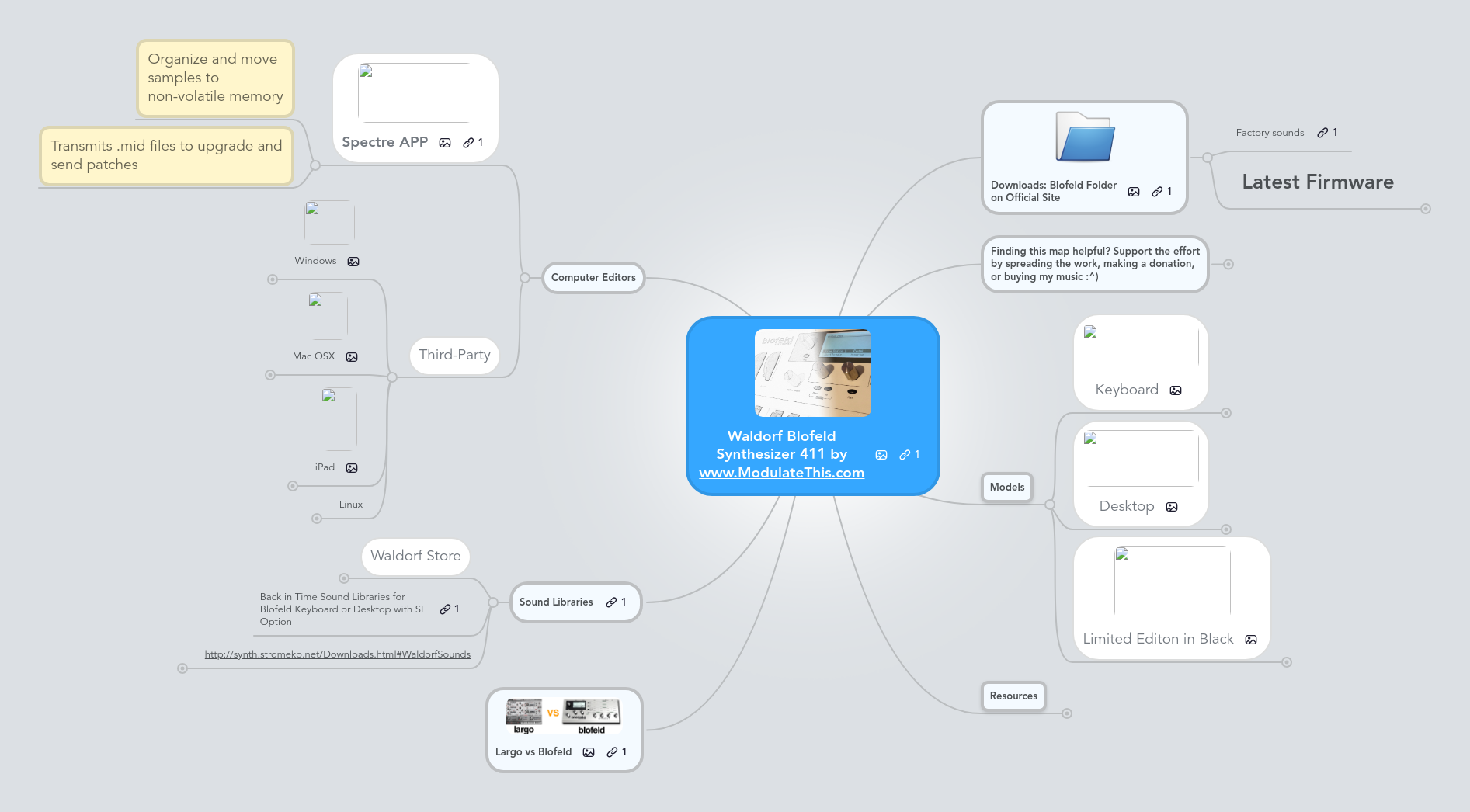 Finding this map helpful? Support the effort by spreading the work, making a donation, or buying my music :^)
Mark Mosher Music
Albums
Learn more about electronic music at Modulate This!
Contact
Desktop
Learn More
Buy, US, Sweetwater $499
60MB of non-volatile RAM must be activated with Digtial Download "License SL, License SL, Learn More, Buy Download Online (Recommended), Send your Challenge Code with Order to save time!!!, Load sounds with Spectre Editor
Keyboard
Learn More
Buy, US, Sweetwater $999
60MB of non-volatile memory already activated, Load sounds with Spectre Editor
Extra Buttons, Octave-Up, Octave-Down, Free, Assignable button
49 Keys, Fatar Semi-Weighted Keyboard, Velocity, Aftertouch, Release Velocity
Factory sounds
Latest Firmware, Waldorf Blofeld Public Beta Firmware V1.16B2, 1.15 System, Additional KBC13 Update for Keyboard Edition
Limited Editon in Black
Blofeld Keyboard Black
Blofeld Desktop Black
Organize and move samples to non-volatile memory
Note you can also use this app to send patches and multis via the "Upgrade" button which transmits .mid files
Third-Party
Windows, Synposis Software Waldorf Blofeld Sound Organizer - Sound Editor, Info, Download, Demo Video, Softknobs Blofeld VST Editor, Info, Download, MIDIOX - SYSEX Send and recieve for patches, multis, banks..., Synopsis Blofeld User Wavetable Creaator, Communicates with System Exclusive, Windows 7 32, Vista 32, Has issues with Sys-ex, Windows XP
Mac
iPad, iBlofled, Lemur, Template
Waldorf Store
Alien Vanguard Soundset for Waldorf Blofeld by HG Fortune and Dimitri Schkoda
Jörg Schaaf's Blofeld Xperience Vol 1
*Genres* for Waldorf Blofeld by Rob Lee (Requires Kbd or SL Option)
Ingo Weidner's "Analog vs. Digital" Soundset for Waldorf Blofeld
Electric Body Machinery Soundset for Blofeld by Ari Ahrendt
http://synth.stromeko.net/Downloads.html#WaldorfSounds
Soundsets
Samples
Wavetables, SQ80, Prophet VS, Microwave, ...
Category on Modulate This
Facebook Fan page