Collaboration
by Georgina Marcos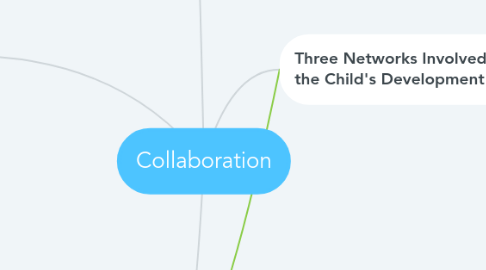 1. Three Networks Involved with the Child's Development
1.1. Education Networks
1.2. Parents
1.2.1. Issues that arise from lack of collaboration and communication
1.2.1.1. 1. Always searching (and fighting) for services
1.2.1.1.1. Parents feel unsupported looking for services; don't know how to access services and cope with different rules and procedures of different institutions
1.2.1.1.2. Feelings of neglect at the secondary level; few services to prepare student for transition from adolescence to adulthood
1.2.1.2. 2. Unaware of Collaboration Practices
1.2.1.2.1. Parents unaware of contact between education and health and social services
1.2.1.3. 3. Parents caught between the two networks (education and health and social services)
1.2.1.3.1. Parents feel tension when transferring information from one network to the other in cases where professionals are not present to meet for discussion
1.2.1.4. 4. Different settings mean different types of support available
1.2.1.4.1. Complementary services more readily available in special schools than mainstream
1.2.1.5. 5. Urgency of finding appropriate services corresponding to the needs of children
1.2.1.5.1. Services provided did not correspond to the needs of the child
1.2.1.5.2. Sometimes services are doubled because of lack of communication between stakeholders
1.3. Health and Social Services
2. Suggested Guiding Principles
2.1. 1. The child has an active role in his/her development
2.2. 2. Parents are the primary persons responsible for the development of their child
2.3. 3. School is the predominant living and learning environment for youth
2.4. 4. School is a major component of the community
2.5. 5. Provide an adapted response to youths with special needs
2.6. 6. Develop a continuum of integrated services
3. Advocacy
3.1. "Spotlighting"
3.1.1. Varied ways clinicians and school-based therapist draw educational professional attentions to neglected needs
3.1.2. Clinicians provide parents with documents to educate on their role of advocate when discussing matters with the school
3.1.2.1. Documents intended to better equip parents to advocate for services/resources for their child
3.2. "Orienteering"
3.2.1. Clinicians who do not understand the school processes attempt to use documents to secure services/resources for the student
3.2.1.1. Issues arise when parents see recommendations as a "prescription" that guarantees a service/resource
3.2.2. Clinicians try to word documents in a way so that the most pressing of a child's challenges will secure support the most when contextualized within the larger scope of their challenges
4. Next Steps
4.1. Establish more formal collaborative practices to include the networks mentioned in order to promote child development
4.1.1. Improve standardized processes and documents to enable client and family goals for rehabilitation
4.2. Involving parents should be a priority
4.3. Develop links and common objectives between networks
4.3.1. Involve clinicians in school involvement (such as creating the IEP)
4.3.1.1. Avoid conflict when clinician statements do not match with school's available resources, plans and procedures