And Then There Were None
by Tracy Diaz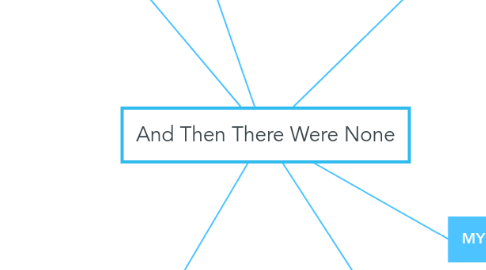 1. MEANING
1.1. Author's style
1.1.1. Narrator's point of view: Omniscient -Third person -Narrator knows the character's thoughts (ex: "Mr Justice Wargrave thought to himself") -He sees everything
1.1.2. Message: -Things are litlle obvious -We have to inquire -The autor mades us think -Own hypotheses
1.1.3. Tone: Disinterested Observer -Narrator describe each scene quietly (even if it is disturbing) -For example: "A bigger cooper, a heavy affair, was leaning against the door- the metal of it stained a dull brown. It corresponded only too well with the Deep wound in the back of Roger's head". -If the situations were from everyday life
1.1.3.1. Type of language: -High and cult language -Use of idioms: "He'd cooked Seton's goose all right!" -Figurative language: beyong the actual meaning of the words
2. THE BOOK AS AN OBJECT
2.1. -The ceagles in the cover=the characters of the story -In the middle, an island=Nigger island (place where the story develops) -In the top of the island=a mansion house (where the characters are staying) -The strong ocean sorrounding te island= there is no escape
2.2. -Mysterious cover -Contrast between shady colors/the author's name in red big letters.
2.3. Publication year: 1939
3. MY PERSONAL OPINION
3.1. What Iliked/found interesting: -How we make hypotheses while the story continues -The characters because they are so different -The tense atmosphere due to the fact that it makes you always be alert
3.2. What I didn't like/find interesting and why: -The plot progresses slowly -Knowing so many thoughts of the characters because I get confused
3.3. Personal recommendation: -Intrigue should start faster. -No so many characters.
4. THE AUTHOR
4.1. AGATHA CHRISTIE: -English crime novelist, playwright and short writer -Born: in Torquay -Died: in Winterbrook -One of the world's top-selling authors
4.1.1. 1890-1976
4.1.2. -The Queen of crime -The most published autor of all time -Over a billion copies in 44 foreign langages - 80 crime novels and short story collections
4.1.3. Best remembered for: Novels particularly about her two fictional detectives, Miss Marple and Hercule Poirot.
4.1.4. Predilection topics: Crime and mystery stories
4.1.4.1. - Ten strangers were invited by Mr. And Mrs. Owen to a mysterious island named Nigger Island to spend their weekend. - Upon arrival everything seems fine. - They are well taken care of and the mansion offers all the necessary comforts. - Suddenly, while they were dinning, a record starts to play. - The mysterious voice of the host accuses every person about committing a crime they have been keeping it secret. - In fact, the tension increased when one by one, the guests are being murdered. - Surprisingly, the killer is among them and preparing to attack again.
5. MY WORK RESSOURCES
5.1. Consulted books at the school library: And Then There Were None -Agatha Christie
5.2. Relevant websites: http://www.agathachristie.com/stories http://www.sparknotes.com/lit/andthenthere/summary.html https://www.biography.com/people/agatha-christie-9247405
6. THE CONTENTS
6.1. Genre: Murder and mystery
6.2. PLOT
6.2.1. Climax: -The apparent death of Judge Wargrave -The disappearance of Dr. Armstrong -Upheaval of history
6.3. -Lawrence Wargrave: A recently retired judge. Highly intelligent old man. Air of authority make him a natural leader for the group. -Vera Claythorne: A former governess. Intelligent and capable characters in the novel, "presence of mind and courage". She also suffers from attacks of hysteria. Feels guilty about her crime. "quite attractive" and "a bit schoolmistressy" (p.8) -Philip Lombard: Mysterious, confident. Man who have been a mercenary soldier in Africa. "It was tall, soldierly old man who appeared at the exit from the platform." (p.19) -Dr. Edward George Armstrong: slightly timid doctor.Recovering alcoholic who once accidentally killed a patient by operating on her while drunk. "Lucky and skilful of course. He was a good man at his job."
6.3.1. -William Henry Blore: A former police inspector. "Mr. Blore was writing carefully in a little notebook". (p.15) -Emily Brent: An old, ruthlessly religious woman who reads her Bible every day. Emily Brent feels convinced of her own righteousness and does not express the slightest remorse for her actions.
6.4. Physical and psychological description of characters
6.4.1. Other important books: -The Mysterious Affair os Styles (1920) -The Murder of Roger Ackroyd (1926) -The ABC Murders (1936)
6.4.2. Main characters
6.4.3. Secondary characters
6.4.3.1. -Isaac Morris: A shady, criminal character hired by the murderer to make the arrangements for the island.
6.5. -Time: 1930´s -Place: Nigger Island, a fictional island off the English coast
6.6. Time and setting