Como aprender hacer cupcakes.
by andri yurani cardenas rios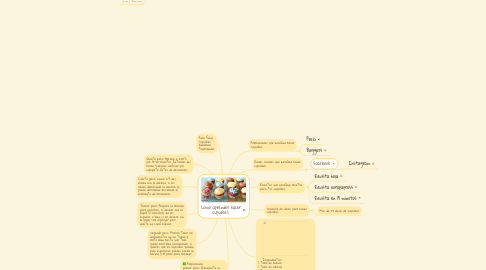 1. Redes sociales que enseñan hacer cupcakes.
1.1. Facebook
1.1.1. Instagram
2. Segundo paso: Mezcla todos los ingredientes en un tazón y bate bien hasta que todo quede muy bien incorporado. Si quieres que los cupcakes queden más esponjosos puedes cernir la harina y el polvo para hornear.
3. Tercer paso: Prepara la charola para cupcakes, si deseas con el papelito colocarlos en los espacios o bien si los deseas sin el papel solo agregar poco aceite en cada espacio.
4. Cuarto paso: Llena 2/3 del molde con la mezcla. Si los llenas demasiado la mezcla se puede derramar del molde al momento de hornearlos.
5. Quinto paso: Hornea a 200°C por 15-20 minutos. Retíralos del horno y déjalos enfriar por completo antes de decorarlos.
6. Paso final: Cupcakes kiwilimon terminados
7. Guidelines
7.1. Anything goes!
7.2. No criticism or flaming allowed
7.3. The Wilder The Better
7.4. Quantity is Quality
7.5. Set a Time Limit
8. Ingredientes: 1 taza de harina 1 taza de azúcar 1 taza de leche 1 taza de harina para hotcakes 1 taza de aceite 3 piezas de huevo 1 cucharadita de vainilla 1 cucharada de polvo para hornear
9. Publicaciones que enseñan hacer cupcakes.
9.1. Prezi
9.2. Bloggers
10. Preparación: primer paso: Precalienta el horno a 200° C.
11. Revistas que enseñan recetas para tus cupcakes.
11.1. Revista hola
11.2. Revista europapress
11.3. Revista en 15 minutos
12. Selección de ideas para hacer cupcakes.
12.1. Mas de 25 ideas de cupcakes