TIPOS DE ENFERMDEDADES DE LA PIEL (ENFERMEDADES CUTANEAS)
by Jore Hurtado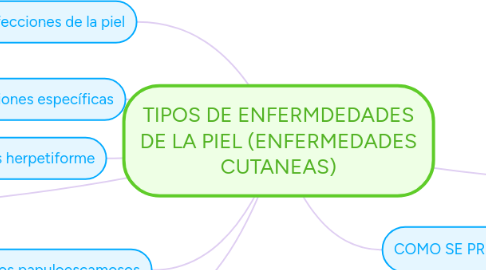 1. color
1.1. o textura.
2. Download our native mobile apps for iOS and Android to mind map on the go!
3. Pediculosis • Pitiriasis versicolor • Tinea cruris • Tinea corporis • Tinea capitis • Lepra • Erisipela • Herpes simple • Mononucleosis infecciosa • Verruga (Verruga plana, Verruga plantar) • Molusco contagioso
4. Trastornos papuloescamosos
4.1. Psoriasis • Pitiriasis rosada • Liquen plano
5. Dermatitis y eccema
6. Infecciones específicas
7. Infecciones de la piel
7.1. Impetigo • Forúnculo
8. Penfigo • Dermatitis herpetiforme
8.1. Trastornos bullosos
9. COMO SE PRESENTAN
9.1. cambios en su apariencia
9.2. temperatura
9.2.1. Estos trastornos se presentan por medio de manchas, pequeños bultos
9.3. a veces con pus (pústula), urticaria, descamación, úlcera
9.4. estas señales de la piel presentan picor, quemazón o dolor.
9.5. Los rayos láser pueden ser de gran ayuda para ofrecer un mejor diagnóstico acerca de las condiciones de la piel.
9.5.1. Open the Theme menu from the bottom of your map editor to change your map theme
9.5.2. Create a presentation of your mind map by clicking the presentation icon in the bottom left corner of your screen
9.5.2.1. Simply hold down COMMAND i.e. CTRL and Click & Drag to create a slide for one or multiple topics
9.5.2.2. Set transitions for your slides
9.5.2.3. Click "Start Slideshow" to view your presentation
9.5.3. Open the Sharing Settings from the bottom of your map editor to share the map with a friend or publish it to the web
9.5.3.1. You can share your map with anyone via email
9.5.3.2. You can publish your map and enable anyone with an internet access to find it
9.5.3.3. You can embed your map on a blog or website
10. ¿Qué son las enfermedades de la piel? Las enfermedades de la piel son todas aquellas que conciernen a la piel, ya sea, el acné, el melanoma (cáncer cutáneo). Entre las que se incluyen enfermedades relacionadas como las de las uñas, el pelo, el sebo y el sudor.