PS 130 TECHNOLOGY TEAM
by Marc Stegman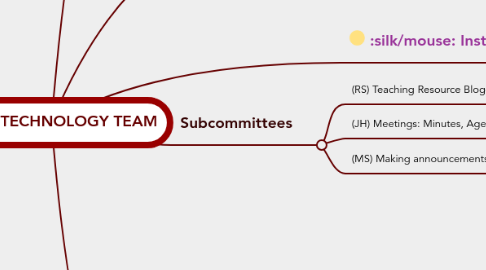 1. Website Manager- Mr. Stegman
1.1. Collect & Recruit Web Site Content
1.1.1. Gather content from teachers & office administrators for the websites
1.1.1.1. Monthly & Weekly Calendar content
1.1.2. Teach staff to add their own info to the websites
1.1.2.1. Assistant(s) - Making Announcements
1.1.3. Goal: 4 new posts to the websites each week
1.1.3.1. New Student Post
1.1.3.2. New "Teaching Resource" Post
1.1.3.3. Office bulletin (like you'd find in your mailboxes
1.1.4. Weekly laptop time for teachers to blog
1.2. Manage website "Pages" & RSS Feeds
2. Instructional Technology Specialist- Ms. Silberman
2.1. Modeling tech integration through "Lab Class"
2.1.1. Teacher visits
2.1.2. Whole class visits
2.2. Share support resources through staff website
2.3. Assitant(s)
2.3.1. Scheduling weekly(???) "Teaching Resources" journal entries
2.3.2. establishing Buddy System for using the webiste & contributing
3. Planning & Integration Consultant - Mr. Rhys
3.1. Tech Team
3.1.1. Consult with Tech Team leaders on tech team agendas and projects
3.1.2. Oversight of online archiving of tech team resources and progress
3.2. Technology Planning
3.2.1. Consult on integration of technology goals and standards into school planning structure.
3.2.2. Oversight of online archiving and presentation of school technology plans
3.3. All staff, & Grade Level PD
3.3.1. Key Operations and Concepts
3.3.2. Use and Management of Online Tools
3.4. Unit & project planning with teachers
3.4.1. Integration of projects & activities utilizing 21st century forms of communication
3.4.2. Development & archiving of support resources and unit plans on staff website
3.5. Classroom modeling
3.5.1. Planning and assisting in lab class demos
3.5.2. Model best practices for tech integration
4. Ms. Hindy- Chairperson
4.1. Management of Tech Team
4.1.1. Gathering, posting & managing notes & agendas for Technology Team Meetings
4.2. Enrichment Club (Dec '08)
4.2.1. (starting in Dec) Mgmt of monthly home-publishing assignments for "Do Gooders"
4.2.2. Assistant(s) - co-teacher
4.2.3. In-class publishing activities
4.2.4. Recruiting "Student Work" posts
4.3. Mouse Squad
4.3.1. Mgmt of student tasks
4.3.2. Assistant(s) (from Tech Team)
4.3.3. Student/Teacher Training
5. Subcommittees
5.1. (RS) Teaching Resource Blogging
5.1.1. Buddy System
5.2. (JH) Meetings: Minutes, Agendas
5.3. (MS) Making announcements