Australian curriculum Technologies
by morgan tomsett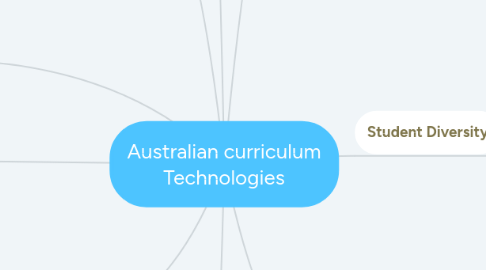 1. Develop confidence as users, designers and producers of technology
2. Strands
2.1. Design and Technologies
2.1.1. Processes and production skills
2.1.2. Knowledge and understanding
2.1.2.1. Technology context
2.1.2.1.1. Engineering principals and systems
2.1.2.1.2. Food and fiber production
2.1.2.1.3. Food specialisations
2.1.2.1.4. Materials and Technologies specialisations
2.1.2.2. Technologies and society
2.1.2.2.1. Designing
2.1.2.2.2. Colaborating and managing
2.1.2.2.3. Elaborating
2.1.2.2.4. Producing and implementing
2.2. Students with a disability
2.3. Digital Technologies
2.3.1. Understanding and knowledge
2.3.1.1. Digital systems
2.3.1.2. Representations of data
2.3.2. Processes and Production Skills
2.3.2.1. Digital implimentations
2.3.2.2. Creating, managing and analysing data
2.3.2.3. Creating solutions by:
2.3.2.3.1. Investigating and defining
2.3.2.3.2. Designing
2.3.2.3.3. Evaluating
2.3.2.3.4. Collaborating and managing
3. Student Diversity
3.1. English as an additional language or dialect
3.2. Gifted and talented students
4. General capabilities
4.1. Critical and creative thinking
4.2. Numeracy
4.3. Literacy
4.4. Ethical understanding
4.5. Personal and social capability
4.6. Information and communication technology (ICT) capability
4.7. Intercultural understanding
5. Cross-curriculum Priorities
5.1. Aboriginal and Torres Strait Islander histories and cultures
5.2. Sustainability
5.3. Asia and Australia's engagement with Asia
6. Curriculum Aims & Objectives
6.1. Investigate, generate and critique solutions for a sustainable future
6.2. Communicate design ideas to a range of audiences
6.3. Communicate design ideas to a range of audiences
6.4. Evaluate processes and designed solutions
6.5. Transfer new knowledge to different solutions
6.6. Understand people involved in technologies contribute to the environment
7. Achievement Standards
7.1. Learning that students should demonstrate at a particular band level.
7.2. Accompanied by work samples
7.3. Sequence and quality of expected learning
7.4. Reflect practices of each subject
7.5. Relationship between strands demonstrated
8. Band Levels
8.1. Foundation to year 2
8.2. Year 3 and 4
8.3. Year 5 and 6
8.4. Year 7 and 8
8.5. Year 9 and 10
9. Links to other Learning Areas
9.1. Mathematics
9.2. English
9.3. Science
9.4. Geography
9.5. The atrs
9.6. History