The Effect of Aromatherapy on Anxiety Experienced by Hospital Nurses
by Lucky Bala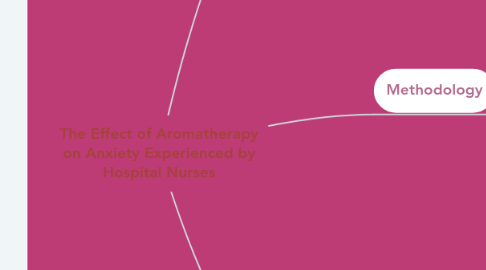 1. Introduction
1.1. Define Aromatherapy
1.1.1. Aromatherapy is the therapeutic use of essential oils to improve health.
1.2. Significance
1.2.1. Nursing is a job that requires a high level of emotional ability and stamina and are at risk for poor inter-shift recovery due to their 12-hour shifts.
1.2.2. Definitions of anxiety and stress
1.3. Purpose
1.3.1. The purpose of this study was to see if aromatherapy can reduce anxiety among registered nurses in an orthopedic surgical trauma unit.
2. Methodology
2.1. Sample
2.1.1. Convenience sample of 44 registered nurses who worked three 12-hour shifts each week on a floor with 34 beds.
2.2. Design
2.2.1. Quasi-experimental, non-randomized design was used for this study.
2.2.2. STAI Y-1 test was used to measure mean anxiety scores.
2.3. Instruments
2.3.1. STAT Y-1; 10 positive and 10 negative word; scoring system from 20-80
2.4. Data Collection Procedure
2.4.1. Pen-and-paper format was used for completing the test.
2.4.2. Pre-test was administered 2 weeks before the study and the post-test was administered over the 2 week study period.
2.5. Results
2.5.1. No statistical evidence to prove that aromatherapy had an effect.
3. Conclusion
3.1. Discussion
3.1.1. There was no method to measure the exposure of the aroma.
3.2. Limitations
3.2.1. The study was not random and was a convenience sample. There was not a control group.
3.3. Final Conclusion
3.3.1. No statistical evidence to prove aromatherapy worked. In the future a randomized sample should be used.