Top Android Apps for Construction Management
by Dan Taylor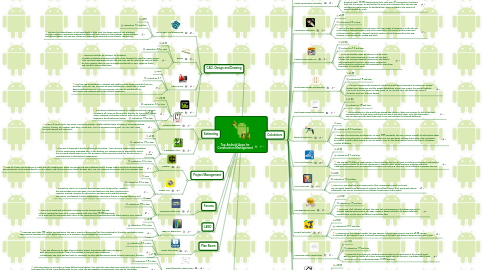 1. CAD, Design and Drawing
1.1. DAKO PRO Civil Engineering
1.1.1. $9.52
1.1.2. Android OS 1.6 and after
1.1.3. This app, by DakoSoftware, is built specifically to help meet the design needs of civil engineers. The app contains an expansive engineering library with information on beam design, concrete design, and channel design. The app also allows civil engineers to work with Circle of Mohr calculations.
1.2. Rilievo
1.2.1. $2.93
1.2.2. Android OS 2.2 or later
1.2.3. This app is built by an architect, for architects. It handles architectural surveys and was built to eliminate the need for paper surveys After you input measurements into the app, they can be saved to an external folder for later viewing. Files can also be transferred directly to your AutoCAD folder and saved for later manipulation.
1.3. AutoCAD WS
1.3.1. Free
1.3.2. Android OS 2.1
1.3.3. This free app is provided by AutoDesk and enables you to access and edit all of your CAD files on the go. You can open via email attachments, synced files, or simply download them from your AutoCAD program. Files can be saved locally for easy access and updating without an Internet connection
1.4. AndCAD
1.4.1. $19.99
1.4.2. Android OS 1.6 or later
1.4.3. This native Android app is great for architects and civil engineers. It supports all AutoCAD files and has features for true vector objects, object snapping, and image underlay with a host of other features in the development queue
2. Calculators
2.1. Concrete Design
2.1.1. Free
2.1.2. Android OS 2.1 or later
2.1.3. This one will let you calculate the amount of concrete and reinforcement needed for a given job. The app has features that check the compression zone and cracking. It also integrates with DakoSoftware's Beam Design app so beam dimensions can be transferred directly.
2.2. Handy Construction Calculator
2.2.1. $7.99
2.2.2. Android OS 1.5 or later
2.2.3. This is one of the most popular construction calculators in the Android market boasting nearly 10,000 downloads to date. With over 27 construction calculators built into the system, it's perfect for the DIYer and contractor alike. The app can calculate the requirements for anything from crown molding to the amount of asphalt needed for a job.
2.3. Carpenter's Calculator
2.3.1. $4.00
2.3.2. Android OS 2.0 or later
2.3.3. Just as the name implies, this app covers the basic needs of carpenters on the job site. It calculates in feet and inches or just inches rounded to the nearest preferred decimal. It also includes features for "decimal pointed" metrics. Notably missing from the app, however, is calculations for roofing and pitch.
2.4. Construction Master Pro
2.4.1. $19.99
2.4.2. Android OS 1.6 and later
2.4.3. As far as calculator apps go, this one is a bit pricey. (But it's still a steal compared to buying the real deal.) It helps you compute standard construction calculations and trigonometric functions. That means contractors and construction workers can tally estimates for everything from stairs to concrete yards.
2.5. Wood Beam Design Construction
2.5.1. $1.99
2.5.2. Android OS 1.5 and later
2.5.3. This app speeds up the process of calculating wood beam placement by taking into account lumber type, beam size, and the weight distribution. From these inputs, the app will indicate how much stress the beam can take based on the applied load. This helps take some of the guess work out of beam design.
2.6. Steel Beam Design Construction
2.6.1. $1.99
2.6.2. Android OS 1.5 and later
2.6.3. The counterpart to the wood beam design app, this one helps you estimate for hot rolled steel – accounting for the load, span, and shape and size of the steel beam. From this information, you can determine the best beam type to use and calculate the allowed deflection.
2.7. Electrical Calculator
2.7.1. Free
2.7.2. Android OS 2.0.1 and later
2.7.3. Designed for electricians and based on US NEC 2008 standards, the app contains a wealth of information about electrical wiring and circuitry. It includes features for wire size and amps, voltage drops, Ohm's law, and motor FLC tables. It's still in beta testing so you can expect more on the development front in the future, including a conduit fill feature
2.8. HVAC Psychometric
2.8.1. $6.99
2.8.2. Android OS 2.1 and later
2.8.3. The app has 23 different combinations of input variables that can be used to perform psychometric calculations. The app displays results for dry-bulb temperature, humidity ratio, partial pressure, enthalpy and more. Additional parameters such as atmospheric pressure and units (e.g. degrees) can be added to customize the app.
2.9. HVAC Duct Calc
2.9.1. $9.99
2.9.2. Android OS 1.6 and later
2.9.3. This HVAC app calculates duct sizing and air flow requirements quickly and easily. You can switch between multiple units of measure for airflow, friction, duct sizing and velocity. Additionally, you can set standards for air altitude, temperature and humidity
2.10. Civil Engineering Suite
2.10.1. $8.99
2.10.2. Android OS 1.5 and later
2.10.3. Featuring a full collection of apps, this suite aids civil engineers in the design process for multiple engineering scenarios. The apps contain a design calculator for beam deflection, manning flow circular pipe, and broad crested weir flow.
2.11. Drywall Calculator
2.11.1. $5.99
2.11.2. Android OS 2.0.1 and later
2.11.3. A newcomer to the Android market, this app appears to be an improvement over the $0.99 version. It calculates all the essentials, such as drywall estimations, wall height and distance between studs and screws.
2.12. Converting Units Construction
2.12.1. $1.99
2.12.2. Android OS 1.5 and later
2.12.3. Converting from metric to standard measurements can be a big pain in the decimal point. But this app can handle all of your conversion needs right on the spot. It includes helpful hints, such as a ton of air conditioning equals 12,000 Btu/hour.
2.13. Roofing Calculator
2.13.1. $19.99
2.13.2. Android OS 1.6 and later
2.13.3. This app is a little pricey but the trade-off is more bang for your buck. For example, roofers can hammer out estimations right at the job site. The app includes features that can calculate roof tear-off costs, miscellaneous material costs, and skylight and chimney costs. It also has features for vent cut-in and installation, roof deck replacement, and roof difficulty.
2.14. V Curve Pro
2.14.1. $9.99
2.14.2. Android OS 1.5 and later
2.14.3. Surveyors, construction specialists, and CAD technicians alike will appreciate the functionality of this app, which specializes in calculating profile grades on the fly. It can calculate profiles, vertical curve elevations, as well as perform conversions on slopes and lengths. For the more discriminating user, a free version is available as V Curve Pro Lite.
3. Estimating
3.1. Universal Estimator
3.1.1. $1.29
3.1.2. Android OS 1.5 or later
3.1.3. As part of iQuick Tools' app series, Universal Estimator handles multiple types of projects, including painting, flooring, framing, and roofing, right from a single app. Once an estimate is generated, you can easily email the total yourself and your client.
3.2. A Estimate All Pro
3.2.1. $3.99
3.2.2. Android OS 1.5 or later
3.2.3. This app is designed to handle all types of estimating – from concrete, painting and remodeling to other construction estimating jobs. It also doubles as a consumer app to estimate the cost of the non-work related items in your life. Reviewers of this app also noted that the developer is very responsive to development suggestions.
4. LEED
4.1. LEED GA Exam Prep
4.1.1. $9.99
4.1.2. Android OS 1.0 or later
4.1.3. Featuring more than 300 sample test questions, this app is a great reference tool for those studying for the LEED certification exam. LEED experts developed all of the exam questions, so it provides a good sampling of the actual test.
5. Forums
5.1. Contractor Talk Forum
5.1.1. Free
5.1.2. Android OS 1.5 or later
5.1.3. Keep up to speed with with other contractors in the business with this app. As far as construction apps go, it's quite popular with more than 10,000 downloads. It's a great tool for interacting with others in the community and learning about the latest trends in your network
6. Project Management
6.1. iConfirm
6.1.1. Free
6.1.2. Android OS 1.6 or later
6.1.3. Keep all of your site documents in order with the iConfirm app, which can manage job site verification forms, change orders and photo documentation. Documentation can be signed directly on your phone, and all documents are legally binding. Plus, you can customize documents with your company logo.
6.2. Tradies App
6.2.1. Free
6.2.2. Android OS 2.2 or later
6.2.3. Brought to you by an Australian development team (designed for "Tradies"), this app includes seven mini apps. The suite features a site diary, change orders, invoicing, quoting, requests for information, purchase orders and bid requests. The makers are planning to add a subcontractor agreement feature in the near future as well.
7. Plan Room
7.1. OnSite Plan Room
7.1.1. Free
7.1.2. Android OS 2.0 or later
7.1.3. This app allows you to share plans and other project documents right from your phone. Each new account includes 1GB of free storage to house all your documents. Collaborators can view, add and reply to comments on plans and documents stored to keep everyone in the loop
8. Reference
8.1. Steel Shapes for Construction
8.1.1. $1.99
8.1.2. Android OS 1.5 or later
8.1.3. With information on more than a dozen different steel shapes, this app helps users determine which hot rolled steel shape is best suited for the job. From double angle to HSS round, the app suggests an appropriate steel size for the design. Results can be emailed or texted to colleagues on the job – or saved to the user's phone clipboard.
8.2. Engineering Libraries
8.2.1. Free
8.2.2. Android OS 1.6 or later
8.2.3. This free app is very popular in the Android market with more than 10,000 downloads to date. It provides reference notes for civil engineers working with steel, wood, concrete and several other materials. While it doesn't have everything a civil engineer needs, it is a handy guide that includes reference notes for the EU, US, Canada and Australia