My Foundations of Education
by Liberty Dare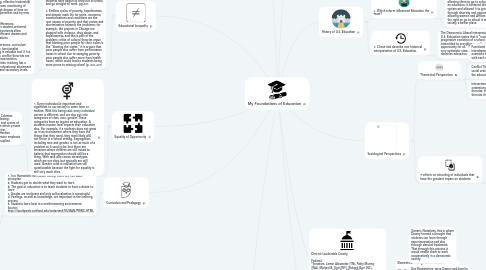 1. Pragmatism is where you have a problem, make a speculative thought, put that into action, and then see the results.
1.1. Generic Notations- this is where Dewey formed a thought that students can learn through experimentation and also through classical bookwork. That through this process it would enable them to work cooperatively in a democratic society.
1.2. Key Researchers- were Dewey and how he thought that children were constantly growing and changing and so should education.
1.3. Goal of Education- was to balance the social, intellectual, and personal development of individuals. Dewey wanted to prepare children not only for society, but for a democratic one.
1.4. Role of a Teacher- is there to provide curriculum, give assignment, answer questions, and help the plan of study.
1.5. Method of Instruction- Dewey believed that students learned in both groups and individually.
1.6. Curriculum-The thought that the content children are learning changes as the social order changes, their interests and needs change.
2. Educational Inequality
2.1. 1. Seeing the working class and non-white students as against the 'dominant culture of schooling-the students reject the white middle-class culture of educational success and embrace an "anti-school" culture; some students focus solely on resisting middle-class culture, which gets rid of the value of learning; the negative response of schooling and unwant of academic success; students have begun to drop out of school and go straight to work. pg 426 2. Endless cycles of poverty, hopelessness, and despair mark life for some- economic transformations and conditions are the root causes of poverty, and that racism and discrimination enhance the problems; for example, the projects in Chicago are plagued with violence, drug abuse, and hopelessness, and this is part of the problem; critics of cultural theories argue that blaming poor people for their issues is like "blaming the victim," it is argues that poor people also suffer from performance issues in school due to ravaging poverty; poor people also suffer more from health issues, which could lead to students being more prone to missing school (p. 426-427)
2.1.1. 4 School- Centered Explanations of Educational Inequality 1. School financing- vast differences between districts; public schools are funded through a combination of revenues from local, state, and federal sources; the use of federal aid to equalize school funding is controversial issue 2. Effective school research- climate of high expectations ; strong, effective leadership; accountability processes; monitoring of student learning; high degree of time on task; flexibility to experiment and try new things 3. Between school differences- authoritarian or more student-centered; different school environments allow students to dream different dreams and different life expectations 4. Within-school differences- curriculum and ability grouping; functionalist perspective (tracking is valuable tool if it is fair and meritocratic; conflict theorists see tracking based on characteristics reproducing inequalities; tracking has a significant effect on educational attainment at both elementary and secondary levels.
3. Politics of Education
3.1. The four purposes of Education:
3.1.1. a. The intellectual purposes of schooling are to teach the most basic skills, reading, writing, and mathematics; to show students certain things; and to improve thinking of students about analyzing, evaluating, and synthesizing.
3.1.2. b. The political purposes of schooling are to instill students loyalty to our current political system; to get them ready to be a part of this system; to get different cultures to come together for this political system; and to make sure students know their basic laws.
3.1.3. c. The social purposes of schooling are to teach problem solving; to make sure there is a social stick between family and the church; and to make sure children socialize into various roles.
3.1.4. d. The economic purposes of schooling are to get students ready to participate in the work force.
3.2. 2. Describe a perspective for each of the following:
3.2.1. 1. The role of the school conservatively speaking is for the school to provide educational help for students in order for them to fit into society and help productivity and stability in the economy.
3.2.2. 2. Explanations of unequal performance conservatively speaking is that students succeed and fail based on what dedication and effort they bring into school. Some individuals are members of a group that does not succeed and it is due to lack of effort and initiative to do something.
3.2.3. 3.Definitions of educational problems conservatively speaking: a. Liberal and radical demands for greater equality in the 1960s-1970s, was to decline the standards so that all the children could understand. b. Liberal and radical demands for individuality and freedom were answered by reducing the authority/rules. c. Liberal and radical for cultural relativism is to decline the values of civilization so that all culture's values and ideas are equally valid. d. Liberal and radical demands for multicultural education was to water down traditional curriculum, which weakens the schools ability to pass down heritage. e. Because they are state controlled/immune from laws of free market, schools are stifled by inefficiency.
4. History of U.S. Education
4.1. 1. Which reform influenced Education the most?
4.1.1. The reform that influenced Education the most would have to be, Education for Women and African Americans. By allowing them to go to school and obtain an education, it bettered the educational system and allowed it to grow. It grew through diversity and opportunity. By allowing women and African American's the right to go to school it made our society a better place.
4.2. 2. Chose and describe one historical interpretation of U.S. Education.
4.2.1. The Democratic-Liberal interpretation of U.S. Education states that it "involves the progressive evolution of a school system committed to providing equality of opportunity for all." This interpretation is a very optimistic view, were everyone deserves education.
5. Sociological Perspectives
5.1. Theoretical Perspectives
5.1.1. Functional Theory- stresses interdependence of the social system; examines how well parts are intergraded with each other.
5.1.2. Conflict Theory- this theory stresses that social order is not necessary; they believe the education system is that of a battlefield.
5.1.3. Interactional Theory- are critiques and extensions of conflict and functional theories; they are less likely to create theories that are logical or eloquent.
5.2. 5 effects on schooling of individuals that have the greatest impact on students:
5.2.1. Knowledge and Attitudes- this is stating that the longer students spend getting an education, the more likely they are to participate in political and public affairs. That by gaining more knowledge it changes their attitudes towards things.
5.2.2. Employment- basically states that getting an education does provide higher pay/more job opportunities.
5.2.3. Teacher Behavior- students respond to how teachers behave in the classroom. If the teacher is unwilling to provide an educational setting, the student will not correctly respond in an educational upswing to the course material.
5.2.4. Student Peer Groups and Alienation- categorized by gender, age, race, grade level, learning abilities, etc. Many students tend to adhere to students who are like-minded in their studies. Sometimes teachers make alienation a problem without realizing it through their methods of teaching.
5.2.5. Gender- females are not living up to their full potential due to the lack of knowledge textbooks provide about how far women have come in this world. The vast majority of administrators are men, and the amount of diversity is still low in authors for education, so everything is written in a males perspective.
6. Philosophy of Education
7. Schools as Organizations
7.1. District: Lauderdale County Federal: *Senators- Lamar Alexander (TN), Patty Murray (WA), Michael B. Enzi (WY), Richard Burr (NC), Johnny Isakson (GA), Rand Paul (KY), Susan Collins (ME), Bill Cassidy (LA), Todd Young (IN), Orrin Hatch (UT), Pat Roberts (KS), Lisa Murkowski (AK), Tim Scott (SC), Bernie Sanders (VT), Robert P. Casey (PA), Michael F. Bernnet (CO), Tammy Baldwin (WI), Christopher S. Murphy (CT), Elizabeth Warren (MA), Tim Kaine (VA), Maggie Hassan (NH), Tina Smith (MN), and Doug Jones (AL) *House of Representatives- Virginia Foxx (NC; Chairman), Joe Wilson (SC), Duncan Hunter (CA), David Roe (TN), Glenn Thompson (PA), Tim Walberg (MI), Brett Guthrie (KY), Todd Rokita (IN), Lou Barletta (PA), Luke Messer (IN), Bradley Byrne (AL), David Bratt (VA), Mike Bishop (MI), Glenn Grothman (WI), Elise Stefaink (NY), Rick Allen (GA), Jason Lewis (MN), Francis Rooney (FL), Paul Mitchell (MI), Thomas Garrett (VA), Lloyd Smith (PA), Drew Furguson (GA), Ron Estes (KS), Bobby Scott (CA), Susan Davis (CA), Raul Grijalva (AZ), Joe Courtney (CT), Marcia Fudge (OH), Jared Polis (CO), Gregorio Sablan (Northern Mariana Islands), Frederica Wilson (FL), Suzanne Bonamici (OR), Mark Tokano (CA), Alma Adams (NC), Mark DeSaulnier (CA), Donald Norcross (NJ), Lisa Blunt Rochester (DE), Raja Krishnamoorthi (IL), Carol Shea-Portor (NH), and Andriano Espaillat (NY) Local: *Senators by Dsitrict- Tim Melson, Larry Stutts *House of Representatives by District- Phillip Pettus, Lynn Greer, Marcel Black, Johnny Mack Morrow *State Superintendent- Ed Richardson *Represntative on School Board- Jeff Newman *Local Suprintendent- Johnathan Hatton *Members of the Local School Board- BarbraConellious, Jerry Fulmer, Terry Holden, Ronnie Owens, Daniel PAtterson
7.1.1. Elements of Change within Schools "Conflict in a necessary part of change. Efforts to democratize schools do not create conflicts, but they allow previously hidden problems, issues, and disagreements to surface. Staff involvement in school restricting must be prepared to elicit, manage, and resolve conflicts. New behaviors, must be learned. Because change requires the relationships and behaviors, the change process must include building communication, collaboration, and conflict resolution. Team building must extend to the entire school. Shared decision making must consciously work out and give on-going attention to relationships within the rest of the school's staff. Otherwise, issues of exclusiveness, and imagined elitism may surface, and perceived "resistance to change " will persist. Process and context are interrelated. The process a team uses going in about work is a important as the content of educational changes it attempts. The substance of a project often depends upon the degree of trust and openness built up within the team and between the team and school. At the same time, the usefulness and visibility of the project will influence future commitments from and the relationships amoung the staff ad other get invoved." pg 232
8. Curriculum and Pedagogy
8.1. 1. In a Humanistic curriculum theory, there are five basic principles: a. Students get to decide what they want to learn b. The goal of education is to teach students to have a desire to learn c. Grades are irrelevant and only self-evaluation is meaningful d. Feelings, as well as knowledge, are important in the learning process e. Students learn best in a nonthreatening environment Source: http://facultyweb.cortland.edu/andersmd/HUMAN/PRINC.HTML
8.1.1. The two traditions of teaching are Mimetic and Transformative. Mimetic- gives a central place to the transmission of factual and procedural knowledge from one person to another through an essentially imitative process; the five steps are to test, present, perform/evaluate, reward/fix, and advance. Transformative- a change of one kind or another in person being taught-- a qualitative change often dramatic proportion; a metamorphosis; the three steps are personal modeling, "soft" suasion, and the use of narrative. Source: Pages 316-321
9. Equality of Opportunity
9.1. 1. Every individual is important and significant to our society in some form or fashion. With this being said, every individual person is different, and are also put into categories of class, race, gender. These categories have an impact on education. A students income level impacts their education also. For example, if a students does not grow up in an environment where they have the things that they need, they most likely will not thrive in a school setting. Segregation, including race and gender, is not as much of a problem as it used to be, but there are instances where children are still raised to believe that segregation should still be a thing. With race also comes stereotypes, which are not okay, but typically are still used. Gender roles in education are still questionable because the fight for equality is still very much alive.
9.1.1. 2. The two responses of the Coleman Study from 1982 are the following: *The study compared to the test scores of public and private schools, in which private schools, seemed to 'do it better.' *Private schools had more effective learning environments with more emphasis on academics and stricter discipline.
10. Educational Reform
10.1. 2 School-Based Reforms 1. School Choice- Intersectional choice plans include public and private schools; equity issues are arise from that of some private schools are believed to aid in social inequalities. A public policy that raises issues of equal educational opportunity, "intersectional school choice policies include only public schools; states permit students to attend in any public school district in the state, so long as the nonresident school district is willing, has space, and the transfer does not upset racial balance; most choice plans are limited geographically, these inter district choice plans commonly allow urban students to cross district lines and attend suburban schools that are located in relatively white neighborhoods." *Inter-district choice plans refer to any option available to students within a given public school district, these options range from a choice of curriculum within a particular school to allowing students to attend any school in the district; a controlled choice, which is included in this plan, is a plan in which students choose a school anywhere in a district or within some zones with a district. 2. Vouchers- *Vouchers advocates argue that school choice will have three important impacts: * First, it will provide low-income parents with the same choices as middle-class parents and lead to an increased parental satisfaction with their children's schools * Second, given the absence of the large educational bureaucracy of urban school systems, voucher schools, along with charter schools, will provide better learning environments for low-income students and result in higher student achievement * Third, due to the competitive market effects of competition from charter and voucher schools, urban public schools will be forced to improve or close their doors, which result in higher student achievement in urban public schools
10.1.1. Race to the Top * Adopting standards and assessments that prepare students to succeed in college and the workplace and to compete in global economy * Building data systems that measure student growth and success and inform teachers and principals about how they can improve instruction * Recruiting, developing, rewarding, and retaining effective teachers and principals, especially when they are needed most * Turning around our lowest-achieving schools