IT IS BEST TO GO SHOPPING WITH YOUR FAMILY
by Maria del Mar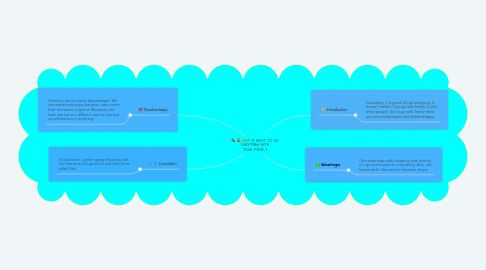 1. Introduction
1.1. Nowadays, it is good fun go shopping. It doesn't matter if you go with family or with other people, but to go with family there are some advantages and disadvantages.
2. Advantages
2.1. One advantage with shopping with mother, it is good she pays for everything. Also, she knows what I like and my favourite shops.
3. Disadvantages
3.1. However, the are some disadvatages. We can sometimes argue because I want more than she wants tu spend. Moreover, the taste can be very different and we can end up without buy in anything.
4. Conclution
4.1. In conclution I prefer going shopping with my friends as it is good fun and they know what I like.