CHAPTER 4 : SYSTEM HACKING
by syaaa syaa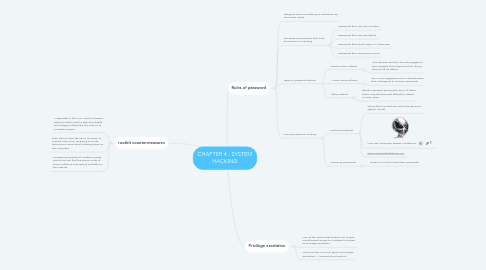 1. Rules of password
1.1. designed to be something an individual can remember easily
1.2. examples of passwords that lend themselves to cracking:
1.2.1. Passwords that use only numbers
1.2.2. Passwords that use only letters
1.2.3. Passwords that are all upper- or lowercase
1.2.4. Passwords that use proper names
1.3. Types of password attacks
1.3.1. Passive online attacks
1.3.1.1. , the attacker tends to be not engaged or less engaged than they would be during other kinds of attacks.
1.3.2. . Active online attacks
1.3.2.1. use a more aggressive form of penetration that is designed to recover passwords.
1.3.3. Offline attacks
1.3.3.1. attacks represent yet another form of attack that is very effective and difficult to detect in many cases.
1.4. manual password cracking
1.4.1. Default passwords
1.4.1.1. Set by the manufacturer when the device or system is built.
1.4.1.2. CIRT.net | Suspicion Breeds Confidence
1.4.1.3. www.passwordsdatabase.com
1.4.2. Guessing passwords
1.4.2.1. Determine a list of potential passwords.
2. Privilege escalation
2.1. One of the tactics that hackers use to gain unauthorized access to a network is known as privilege escalation.
2.2. There are two common types of privilege escalation — horizontal and vertical
3. rootkit countermeasures
3.1. ' originated in the UNIX world; however, today it's often used to describe stealth technologies utilized by the authors of Windows Trojans.
3.2. Both actions have the same purpose; to prevent users from receiving accurate information about what is taking place on the computer.
3.3. increased popularity of rootkits is partly due to the fact that the source code of many rootkits is now openly available on the Internet.