PACE 2.0 Superset Driver (Stream #1)
by Keith Farrell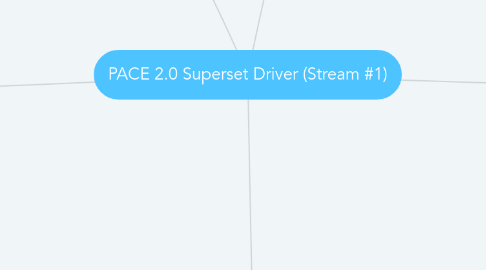 1. Leadership and Culture Change
1.1. Leadership
1.1.1. leadership listening tour -- frames problem (numeric, logical, and emotional ways) -- solicits ideas and involvement from team -- person centered outcomes**
1.1.2. communicate plan to accommodate growth**
1.2. Culture Change
1.2.1. Create aims / vital signs report card (balanced score card that includes clinical, financial, and enrollment measures)***
1.2.2. Generate diverse case studies -- showing successful enrollment in various settings. Show people what is possible. **
1.2.3. Identify meaningful incentives (building in slack time, days off based on outcomes, $$ compensation) **
2. Awareness Building (pipeline building)
2.1. Raising Awareness among referral sources / community partners
2.1.1. Partnerships (widening the pipeline)
2.1.1.1. Run different tests with community organizations and see where there is an uptake in yield. (CAP, Department of Social services, churches, senior centers, home-health agencies, hospitals, clinics, homeless shelters, MCOs/ACOs, consumer organizations, senior housing programs, alternative care sites, community based physicians. AAA "Area Agency on Aging" , local universities, skilled nursing, hospice, leading age, senior round tables).
2.1.1.2. Create an FTE / department for outreach, partnerships, and education.
2.1.1.3. Identify community based organizations that specialize in specific sub-populations for referrals**
2.1.1.4. Have key staff members serving in community leadership positions in the community (e.g. board members, advisory committees, task forces) as a component of professional development.
2.1.1.5. Set benchmarks either formally or informally for PACE partners
2.1.1.6. Implement joint social events with partner organizations (churches / AARP) so that PACE participants can co-mingle and promote PACE to new potential enrollees
2.1.1.7. Compare the differences in referrals across different PACE organizations. Study referral patterns.**
2.1.1.8. Identify competitor organizations serving the same population and work to build relationships with them.
2.1.1.9. Understand the market potential for your specific PACE organization at a granular level (in specific communities / geographies)**
2.1.1.10. Setting outreach targets for outreach staff**
2.1.2. Set tactics for number of calls/visits for marketing/intake staff and measure effectiveness**
2.1.3. Develop talking points that demonstrate PACE value to that agency (or their client / patients)
2.1.4. Initiate a "refer a friend" day / program
2.2. Media Relations / Public Awareness
2.2.1. Create virtual PACE tour**
2.2.2. Develop social media strategy
2.2.3. Solicit earned media, especially for small market, rural centers (run stories, op-eds)**
2.2.4. Develop testimonials and key facts
2.2.5. identify participants stories to promote (stories to pitch to media)
2.3. Use traditional medial marketing (radio, television, direct mail, etc)****
2.3.1. Television and Radio Ads (make personal and warm)
2.3.2. Direct mail campaigns
2.4. Additional Ideas
2.4.1. Create an information toolkit for promotion and education about PACE (talking points, virtual PACE tour, testimonials, participant stories)**
2.4.2. Brand PACE vans with PACE logo**
3. Enrollment and Retention
3.1. Enrollment
3.1.1. Utilize designated enrollment team*
3.1.2. Build team competency in areas of need
3.1.3. Orientation team that welcomes and checks in with new enrollees for up to 90 days after joining the PACE center -- Creating an advocate position
3.1.4. Take a prospective participant through the enrollment process -
3.1.5. Clarify ownership of enrollment decision and process (e.g. circuit breaker idea) -- IDT versus enrollment team****
3.1.6. commit sufficient resources to allow for desired growth
3.1.7. Mitigating IDT versus marketing tension
3.1.8. Process improvement analysis -- (e.g. rapid results institute)***
3.1.9. Set up a buddy system for new enrollees
3.2. Pre-Enrollment
3.2.1. Provide interim services while waiting enrollment eligibility confirmation***
3.3. State Issues
3.3.1. Work with state to minimize length of eligibility service process***
3.3.2. Hire eligibility specialist to assist with medicaid eligibility***
3.4. Retention
3.4.1. Aggressively monitor participant satisfaction -- reasons for discontinuation of service
3.4.2. effectively transition new participants from enrollment to ongoing care (IDT) team
3.4.3. Create a dis-enrollment team that is both preventive and reactive***
3.5. Metrics
3.5.1. Create a dashboard of metrics for enrollment and retention (process and outcome)**
4. Federal and State Policy
4.1. Federal
4.1.1. Waiver request (quarterly basis)
4.1.2. Clarifying the marketing restrictions to allow for updates for folks who are ready to enroll
4.2. State
4.2.1. Legislative advocacy - how do we get to know our legislators
4.2.1.1. Testify about the PACE program to legislators
4.2.1.2. Committee leads and champions
4.2.1.3. encourage participant relationships with leigislators
4.2.1.4. op-eds about PACE in local newspapers
4.2.2. MCO parity
4.2.2.1. Make sure we are paid fairly compared to ACOs
4.2.2.2. State associations for PACE (allows all PACE programs to speak with the same voice)
4.2.3. PACE Licenses
4.2.3.1. Speed up the process to get licenses
4.2.3.2. Get a PACE licensing program across the nation
4.2.4. Additional Actions
4.2.4.1. Create advisory groups on the local level
4.2.4.2. Have state government send out notices to people when they become PACE eligible
4.2.4.3. Set up state work group to educate policymakers about PACE
4.2.4.4. Create a timely eligibility awareness program
4.2.4.5. Enroll people while we're waiting for financial eligibility confirmation (Medicaid Pending)
5. Building Readiness for Growth***
5.1. Staff
5.1.1. Increase HR capacity, with more needed during rapid growth and hiring.
5.1.2. Proactive recruitment to maintain ratios
5.1.3. Staff to provide real time data for action.
5.1.4. Hire/contract a dedicated recruiter
5.2. Planning for growth
5.2.1. Assess the organizations readiness for rapid growth, e.g. with SWAT analysis.
5.2.2. Develop a plan for growth and report to the Board
5.2.3. Periodically revise organizational chart to accommodate growth
5.3. System
5.3.1. Automate specific EHR system for PACE – for entire system of care
5.3.2. Have a main number for the PACE center for all inquiries - which then sources the call to the right provider
5.3.3. Transportation routing system/software
5.4. Space
5.4.1. Anticipate CMS/State process for adding centers/sites
5.4.2. Use ACS to manage overflow (temporary).
5.5. Managing Risk / Concern
5.5.1. Refine the enrollment decision making process to build confidence in safety in the community
5.5.2. Use a risk assessment tool (including SDOH) in managing the population
5.5.3. Making sure clinical team is competent
5.5.4. Weekly UM meetings about participants at risk -- and we rank them
5.6. Business Strategy
5.6.1. Maximize PACE real estate -- Explore ACS -- existing PACE center capacity - creative ways to define current space
5.6.2. Have an AM/PM center; utilize Saturday centers for people with high needs
5.6.3. Expand non-dual eligible populations , find the impediments, and market and grow
5.6.4. Look for spaces that are now vacant (churches, etc)
5.6.5. Get good outcome data -- with good outcome data there are donors, philanthropists, etc
5.6.6. PACE feasibility Kit -- to use for people consider enrolling & separate kit for providers - consider making it available online
5.6.7. NPA members take action to encourage new providers
5.6.8. Financial commitment parent org / donor community / foundations
5.6.9. Set aside money to encourage new PACE providers (economic development model)
5.7. See Revenue / Costs
5.7.1. Track and report revenue and costs as PMPM, with breakouts by services/components of care.
5.7.2. Use an organizational scorecard, with goals for a balanced set of measures (e.g. Quality, Growth, Engagement, Operational innovation, Financials).
5.8. IDT Team
5.8.1. Build a distinct care coordination model/process and team
5.8.2. Obtain NP waivers for IDT
5.8.3. Process for adding new participants to IDT. Clarify decision to enroll.
5.8.4. Specific windows/times for new enrollee assessments
5.8.5. All IDT work documented in the EHR
5.8.6. Train on documentation to adequately capture risk
5.8.7. Contract with community-based PCPs for the IDT
5.8.8. Contract with hospitalist groups from hospitals to which the PACE Org refers for the IDT
5.8.9. Contract with hospitalist groups from hospitals to which the PACE Org refers for inpatient management.