GENERAL CONCEPTS
by Aylin Mariana Rangel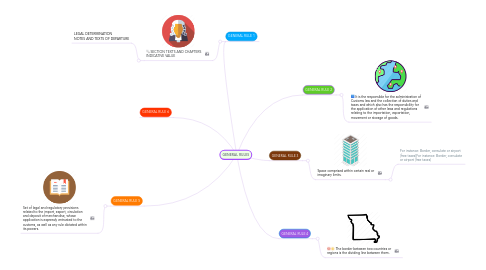 1. BORDER
1.1. The border between two countries or regions is the dividing line between them.
2. CUSTOMS
2.1. It is the responsible for the administration of Customs law and the collection of duties and taxes and which also has the responsibility for the application of other laws and regulations relating to the importation, exportation, movement or storage of goods.
3. JURISDICTION
3.1. Authority to apply the laws of a given territory or scope
3.1.1. Customs offices
4. CUSTOMS LEGISLATION
4.1. Set of legal and regulatory provisions related to the import, export, circulation and deposit of merchandise, whose application is expressly entrusted to the customs, as well as any rule dictated within its powers.
5. AMBIT OR SCOPE
5.1. Space comprised within certain real or imaginary limits.
5.1.1. For instance: Border, consulate or airport (free taxes)For instance: Border, consulate or airport (free taxes)