Various ways in which governments seek to mitigate climate change
by Student - Lourenço Silva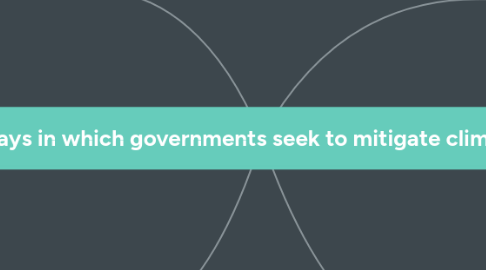 1. Reduce Energy Use
1.1. Education campaigns on ways to reduce the consumption
1.2. increase the use of renewable energy sources in electricity generation
1.3. Installation of recharging car stations
1.4. Introduce legislation for emission-control technologies on vehicles to reduce the level of GHG emissions
1.5. Usage of economic incentives
2. Replace Fossil Fuels
2.1. Solar Power
2.2. Wind Power
2.3. Hydropower
2.4. Geothermal Energy
3. Reducing emissions from transport
3.1. Planning regulations can promote alternatives to private car such as cycle paths
3.2. Replacing petrol or diesel vehicles with electric powered or hybrid vehicles
3.3. Substitution of fossil fuels to biofuels such as biodiesel and bioethanol.
4. Reduce emissions from agriculture
4.1. Using less fertiliser
4.2. Adding nitrification inhibitors to fertiliser to reduce nitrous oxide production
4.3. Reducing methane generation from livestock
4.4. Cultivating rice varieties that can be grown in drier conditions to reduce methane emissions.