LEARNING, MEMORY, AND THINKING
by Trace Martinez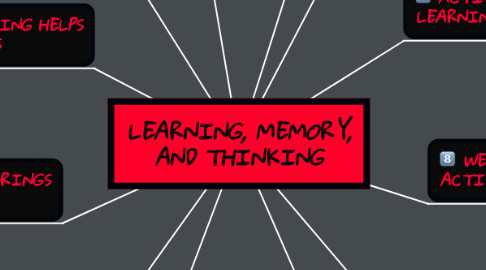 1. CRITICAL THINKING HELPS YOU EVALUATE IDEAS
1.1. SOMEONE WHO USES SPECIFIC CRITERIA TO EVALUATE REASONING AND MAKE DECISIONS. SOMEONE WHO THINKS CRITICALLY CAREFULLY EXAMINES INFORMATION FOR ACCURACY, AUTHORITY, AND LOGIC BEFORE USING IT.
2. MNEMONIC DEVICES CAN HELP YOU REMEMBER
2.1. OR, MEMORY AIDS OR STRATEGIES THAT HELP YOU REMEMBER ITEMS CONCEPTS, OR A SERIES OF EVENTS. (ROMAN ROOM, ACRONYMS, RHYMES OR SONGS, CHUNKING.
3. ANALYTICAL THINKING HELPS YOU BREAK IDEAS DOWN
3.1. INVOLVES BREAKING DOWN A SUBJECT AND EXAMINING ITS PARTS. UNDERSTANDING THE FUNCTIONALITY OF KEY IDEAS HELPS YOU UNDERSTAND HOW TO LEARN FROM THEM.
4. THINKING IS A SKILL DEVELOPED
4.1. META-COGNITION, THE ACT OF BEING AWARE OF YOUR OWN THOUGHT PROCESSES. ACTIVELY ENGAGING THROUGH IT CREATES KNOWLEDGE THAT BECOMES TANGIBLE.
5. CREATIVE THINKING HELPS YOU BUILD LESS
5.1. THE ACT OF CREATING IDEAS FOR SOLVING PROBLEMS, IS AN INTEGRAL PART OF THE EDUCATION. WITHOUT CREATIVE THINKING, THERE WOULD BE NO INVENTIONS, NEW FORMULAS, BREAKTHROUGHS IN TECHNOLOGY AND SCIENCE, NEW ART MOVEMENTS, THE LIST IS ENDLESS.
6. ACTIVE LEARNING=DEEP LEARNING
6.1. AS YOU SPEND MORE TIME STUDYING AND ENGAGED IN ACTIVE LEARNING WITH A GRITTY MINDSET, YOU WILL REMEMBER MORE OF WHAT YOU HAVE LEARNED BECAUSE YOU HAVE MOVED IT FROM YOUR SHORT-TERM MEMORY TO YOUR LONG TERM MEMORY.
7. PROBLEM SOLVING BRINGS IT ALL TOGETHER.
7.1. CLEARLY IDENTIFY THE PROBLEM OR GOAL. GENERATE SEVERAL POSSIBLE SOLUTIONS TO THE PROBLEM OR GOAL. CRITICALLY EVALUATE EACH POSSIBLE SOLUTION. CHOOSE ON OF THE SOLUTIONS AND DEVELOP A PLAN FOR PUTTING IT IN ACTION. EVALUATE THE SOLUTION AFTER IT IS IN PLACE.
8. WE LEARN BEST WHEN WE'RE ACTIVE
8.1. FOR EVERY HOUR YOU'RE IN CLASS, YOU NEED TO SPEND ANOTHER THREE HOURS LEARNING OUTSIDE OF CLASS. HOWEVER, IT IS HELPFUL TO ENGAGE IN OTHER ACTIVITIES THAT CONTRIBUTE TO LEARNING.
9. THE UNWRITTEN RULES
9.1. IT WON'T ALWAYS BE OBVIOUS WHEN YOU WILL NEED TO PRACTICE CRITICAL THINKING. TO MUCH STRESS, FATIGUE, AND TIME PRESSURE CAN KILL CREATIVITY. SOME OF YOUR BEST IDEAS WILL COME WHEN YOU LEAST EXPECT THEM. FAILURE IS A GOOD THING.
10. YOUR MINDSET MATTERS
10.1. FIXED MINDSET READERS HAVE TOUBLE LEARNING BECAUSE THEY BELIEVE THEY CANT CHANGE THEIR STATE OF INTELLIGENCE. GROWTH IS THE FIRST CORE ELEMENT OF GRIT.
11. INTEGRITY MATTERS
11.1. TO THINK CRITICALLY WITH INTEGRITY YOU WILL NEED TO BE FAIR IN YOUR JUDGEMENT AND REPRESENT OTHERS' VIEWS AS ACCURATELY AS POSSIBLE.
12. LEARNING IS A PROCESS
12.1. THE MORE YOU DO SOMETHING, THE MORE YOU CREATE CONNECTIONS IN THE BRAIN THAT NOT ONLY HELP YOU REMEMBER HOW TO DO SOMETHING BUT ALSO HELP YOU GET BETTER AT IT.