LIVING IN CHANDLER, ARIZONA
by Joaquin Lara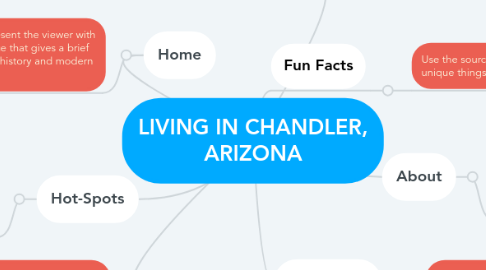 1. About
1.1. Provide a biography and reason as to why I created the website. My connection towards Chandler and why I think, personally, it is a great place to grow up or grow old.
2. Home
2.1. The home page will present the viewer with a easy-to-see experience that gives a brief summary of Chandler's history and modern culture.
2.1.1. Logo: The City of Chandler Logo
2.1.2. Pictures: Arizona Cityscape and Downtown Chandler
2.1.3. Google Map: Chandler
3. Hot-Spots
3.1. This is where I will explain the hot-spots in Chandler. I will present 5 specific places in Chandler that usually lure tourists and residents.
3.1.1. Pictures: Chandler Hot-Spots
3.1.2. Video: Elmer's Tacos Review
4. Fun Facts
4.1. Use the source, "15 things...", to provide unique things about Chandler, Arizona.
4.1.1. Pictures: Pertaining to the 15 things you didn't know.
5. Gallery
5.1. This is where I will present various pictures of Chandler. Not necessarily hot-spots but pictures that allow the viewers to get a feel as to what Chandler, Arizona is like.
5.1.1. Pictures: Various photos both rural and urban
6. Contact Us
6.1. Give contact information and a memo as to what the viewer would like to express to us.
6.1.1. Weebly "Contact Us" tool
6.1.2. Logo
7. Looking for a Place to Settle Down?