CLASSICAL AND OPERANT CONDITIONING
by Haydee Mendez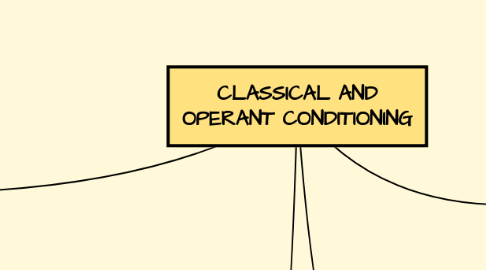 1. What is Classical Conditioning?
1.1. Is give a signal about something before have a naturally or involuntary behavior.
1.1.1. EXAMPLE
1.1.1.1. WHEN THE TEACHER SAY A SOME PHRASE AND EVERY TIME THAT REPEATS IT GIVE A CANDY TO HIS STUDENT , AND THE HE TEACHER DO THIS EVERY DAY, THE STUDENT KNOW THAT EACH TIME THE TEACHER SAY THE PHRASE , SOMEONE OF THEIR CLASSMATE WILL GET A CANDY,THAT IS, ALTHOUGH THE STUDENT DOES NOT OBTAIN A CANDY WHEN HE LISTENS THE PHRASE, THEY WILL HAVE INVOLUNTARY BEHAVIOR BECAUSE THE TEACHER EVERY DAY REPEAT THE PHRASE AND THE STUDENT KNOW THAT IS TO GIVE A CANDY.
2. What is Operant Conditioning?
2.1. It is the result of not doing something, is voluntary behavior.
2.1.1. EXAMPLE
2.1.1.1. DAY 1. IF THE BOY NOT DO THE HOMEWORK NO PLAY SOCCER DAY 2. THE BOY DO SOME .TASK HE HAS TWENTY MINUTES TO GO TO PLAY SOCCER. DAY 3. THE BOY DO ALL HOMEWORK, HE PLAYS 2 HOURS
2.1.1.1.1. The boy remembers that when he do the homework , he can to go to play soccer.
3. There are two principal components of operant conditioning:
3.1. 1. Reinforcement : increase desired behavior, and is possitive and negative.
3.1.1. 2. punishment: decrease desired behavior and is positive and negative.
4. What is conditioning?
4.1. Is a learning that links some sort of trigger or stimulus a human behavior or response.
4.1.1. Types of conditioning
4.1.1.1. 1. Classical condioniing
4.1.1.1.1. 2. opererant conditioning