Vadri_books
by Vanessa Adrian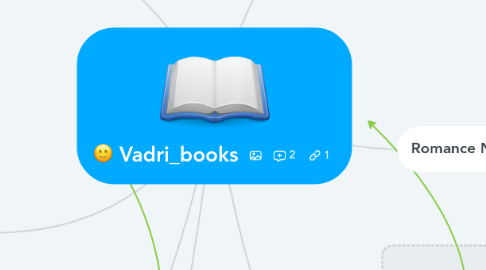 1. Fantasy Fiction (Page 1)
1.1. Vampire Novels
1.1.1. Vampire Academy
1.1.1.1. Twilight
1.1.1.1.1. House of Night Series
1.2. Harry Potter
1.3. Throne of Glass
1.4. A Court of Thorne and Roses
1.5. Six of Crows
1.6. To Kill a Kingdom
1.7. A Cruel Prince
1.8. Hush Hush
2. Romance Novels (Page 2)
2.1. Never Never
2.2. Hopeless
2.3. Damaged
2.3.1. Damaged 2
2.4. Leaving Paradise
2.4.1. Return to Paradise
2.5. It Ends with Us
2.6. Perfect Chemistry
2.6.1. Rules of Attraction
2.6.1.1. Chain Reaction
2.7. A Beautiful Disaster
2.8. Fallen
3. Children's Fiction (Page 3)
3.1. Maximum Ride
3.2. Peter and the Starcatchers
3.3. Kingdom Keepers
3.4. Descendants
3.5. Percy Jackson
3.6. A Series of Unfortunate Events
3.7. The Magic Treehouse
3.8. Corduroy
3.9. Disney Books
3.9.1. Cinderella
3.9.1.1. Tarzan
3.9.1.1.1. Mulan
4. Classic Literature Fiction (Page 4)
4.1. Frankenstein
4.2. Pride and Prejudice
4.3. 1984
4.4. Fever 1793
4.5. The Great Gatsby
4.6. Jane Eyre
4.7. To Kill a Mocking Bird
5. Mystery Fiction (Page 5)
5.1. Murder on the Orient Express
5.2. The Woman in White
5.3. And Then There Were None
5.4. The Da Vinci Code
5.5. Death on the Nile
6. Website Info
6.1. This site will have 6 pages.
6.1.1. 1st page is the introduction of the site with an autobiography of me the owner.
6.1.1.1. the next 5 pages will be of the different genres of books followed with pictures and reviews of each book.
6.2. DESIGN
6.2.1. The design will be modern.
6.2.1.1. White background, black fonts, pictures of each book in a clean white background setting. (possibly on white bedsheets)
6.3. OFFERS
6.3.1. This site will offer a way for visitors interested in reading to find books to their liking an enhance their reading skills and passions by reading more.
6.3.1.1. This website will be a guide for someone interested in reading a book, but they have no clue as to which to read.
6.4. BUDGET
6.4.1. The budget for visitors will be free. No paid subscription needed, just a simple like and follow. The more subscribers, the more popularity for my page.
6.4.1.1. Sponsors eventually will contact me and work with me to promote books they sell or have made.
6.4.1.1.1. My budget for my website design will consist of no more than 50 dollars with the website fees and making my own html and logos.
6.5. INFO
6.5.1. on the first page, visitors will see new information and updated critics on books, the latest news on things related to the books portrayed on the website.
7. PHOTOGRAPHY
7.1. ALL PHOTOGRAPHS ARE TAKEN BY ME
7.2. Clean, Modern Aesthetic
7.3. Sharpness in the quality of the picture increased as well as contour.