Bioetica
by Alma Karina Yanes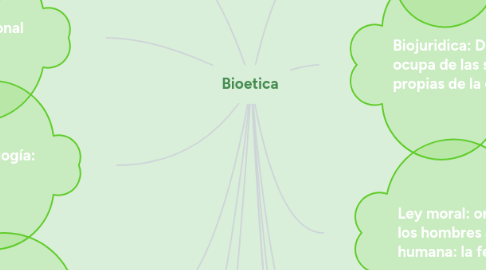 1. Conciencia de la ciencia
2. Biojuridica: Derecho que se ocupa de las situaciones propias de la ética
3. Ley moral: ordena los actos de los hombres al fin de la vida humana: la felicidad.
4. Etapas de la ética en medicina: hipocrática, teológica, filosofía moderna, derechos humanos.
5. Ética: felicidad humana ¿Para que y como vivir?
6. Deontología: Moral profesional y especializada.
7. Relación ética y deontología: felicidad y deber
8. Ley civil: hace posible la vida de los hombres en comunidad.
9. Historia: 1970 Potter Bioetichs: Science of Survival, 1975 Fundamentos de Bioetica, 1979 Enciclopedia of bioethics, 1985 Universidad del Sacro Cuore.
10. Bioetica principalista: Principio de beneficiencia y principio de no-maleficiencia
11. El hombre esculpe su figura interior obrando
12. Bioetica personalista: considerar la vida humana como bien primario y fundamental.
13. Materia pluridisciplinar