Los Fines del Derecho
by fermin toro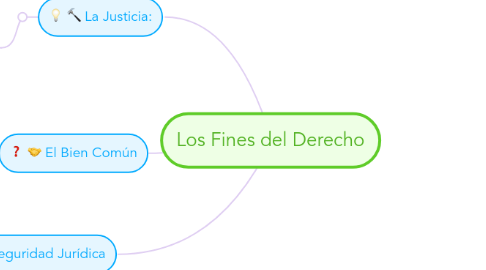 1. La Justicia:
1.1. Son numerosas las definiciones dadas por diferentes autores sobre la justicia, y es que incluso la justicia puede ser analizada desde diferentes perspectivas
1.1.1. como valor, como derecho, y como fin, siendo esta última la que interesa en este análisis.
1.1.2. De todas las definiciones que puedan citarse, la definición clásica de justicia y que además enmarca muy bien su esencia es la propuesta por Ulpiano, quien la definió así:
1.1.2.1. Es la constante y perpetua voluntad de dar a cada uno lo suyo
2. El Bien Común
2.1. Es el Conjunto de valores, bienes y experiencias que contribuyen a la conservación y al progreso de la comunidad y al bienestar material, moral e intelectual de las personas que viven en ella.
3. La Seguridad Jurídica
3.1. Es la garantía dada al individuo de que su persona, sus bienes y derechos no serán objeto de ataques violentos, y si éstos llegaran a producirse la sociedad les garantiza protección y reparación.
4. By the way, this is a floating topic. To create a floating topic, simply drag it away from the map center.