North and South Korean Relations at the 2018 Winter Olympics
by gabrielle muir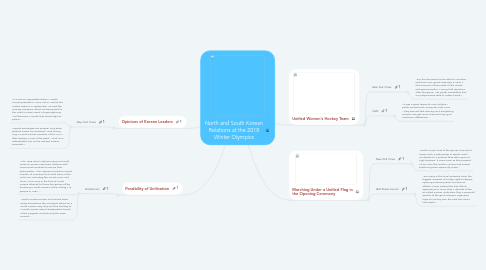 1. Unified Women's Hockey Team
1.1. New York Times
1.1.1. "For the two teams to be able to combine and have such good chemistry in such a short amount of time with all the media and governments," Murray told reporters after the game, "it's pretty remarkable that our players were able to make it work."
1.2. CNN
1.2.1. "It was a great lesson for my children," public servant Park Young-sun told CNN. "They learned that winning isn't everything and you can get more cheers for trying to overcome differences."
2. Marching Under a Unified Flag in the Opening Ceremony
2.1. New York Times
2.1.1. "South Korea, host of the games, has said it hopes such a partnership in sports could contribute to a political thaw after years of high tensions. It came even as the prospect of war over the North's nuclear and missile tests has grown especially acute."
2.2. Wall Street Journal
2.2.1. "For many in the local audience here, the biggest moment of Friday night's Olympic opening ceremony didn't involve an athlete: It was instead the first official appearance in more than a decade of the so-called Korean unification flag, a powerful symbol of the spirit Olympic organizers hope to convey over the next two and a half weeks."
3. Opinions of Korean Leaders
3.1. New York Times
3.1.1. "It is not an impossible dream," South Korea's president, Moon Jae-in, said at the United Nations in September. He said the coming Olympics, which are being held in the South Korean resort of Pyeongchang, "will become a candle that sheds light on peace."
3.1.2. "Sports exchanges can prosper only when political issues are resolved," said Chang Ung, a North Korean member of the I.O.C., after landing in Seoul this week. "That is an unbreakable rule on the divided Korean Peninsula."
4. Possibility of Unification
4.1. Smithsonian
4.1.1. "The 1988 Seoul Olympics spurred South Korea to pursue improved relations with communist countries to ensure their participation. The Olympics hosted a record number of countries from both blocs of the Cold War, including the Soviet Union and China. This, even in the face of North Korea's attempt to throw the games off by bombing a South Korean airliner killing 115 people in 1987. "
4.1.2. "North Korea's nuclear and missile tests, and provocations like a torpedo attack on a South Korean navy ship and the shelling of a South Korean island, backpedaled much of the progress made during the 2000 summit."