Cordillera Administrative Region
by gio vistal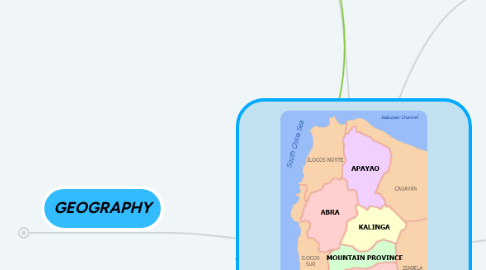 1. DESCRIPTION
1.1. Cordillera Administrative Region (Ilokano: Rehion/Deppaar Administratibo ti Kordiliera; Filipino: Rehiyong Pampangasiwaan ng Cordillera), designated as CAR, is an administrative region in the Philippines situated within the island of Luzon. The only landlocked region in the country, it is bordered by the Ilocos Region in the west and southwest, and by the Cagayan Valley on the north, east, and southeast. Prior to the 2015 census, it is the least populated and least densely-populated Region in the country.
2. PROVINCE
2.1. The region comprises six provinces: Abra, Apayao, Benguet, Ifugao, Kalinga and Mountain Province. The regional center is the highly urbanized city of Baguio.
3. HISTORY
3.1. During the Spanish occupation of the Philippines, Christianization and eventual subjugation of the mountain region proved difficult for the Spanish colonial government.[3] Several comandancias were established by the Spanish colonial government in strategic areas of the mountain region.On August 18, 1908 during the American regime, Mountain Province was established by the Philippine Commission with the enactment of Act No. 1876. Ifugao, which was part of Nueva Vizcaya province.On June 18, 1966, Republic Act No. 4695 was enacted to split Mountain Province and create four separate and independent provinces namely Benguet, Ifugao, Kalinga-Apayao, and Mountain Province.[
4. GEOGRAPHY
4.1. Cordillera Administrative Region is the only landlocked region in the Philippines, bounded on the northeast and east by the Cagayan Valley, and on the southwest and west by the Ilocos Region.The region is primarily mountainous, situated within the Cordillera Central mountain range. Mount Pulag, the highest mountain in Luzon, is located at the tri-point of Benguet, Ifugao, and Nueva Vizcaya provinces.
5. CULTURE
5.1. The Cordillera region is known for its unique musical instruments including the gangsa kalinga, nose flute, bamboo flute, buzzer, bangibang, tongatong, diwdiw-as, saggeypo, and bamboo zither.
6. TOURISM
6.1. The Banaue Rice Terraces is among the sites visited by tourists in the region which is situated in the province of Ifugao. The terraces, ancient sprawling man-made structures from 2,000 to 6,000 years old, are a UNESCO World Heritage Site, and are part of the Rice Terraces of the Philippine Cordilleras. The Philippine Eagle and the Crested-Serpent Eagle was also found in the Last forest frontier of the North the Province of Apayao.
7. CULTURE
7.1. Economy of the region is diverse; mining, agriculture, export processing zone, tourism are among economic activities in the different provinces of the region.The region is abundant with mineral reserves. These include metallic ores such as gold, copper, silver, zinc, and non-metallic minerals like sand, gravel and sulfur..Vegetable crop production is well developed in Benguet, rice production in Ifugao and Abra, corn production in Mountain Province, and Kalinga.