REGION 4-B MIMAROPA
by Danica Picolados Esporlas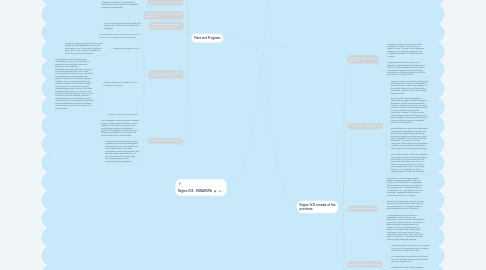 1. Plans and Programs
1.1. PHILIPPINE PLAN OF ACTION FOR NUTRITION (PPAN)
1.1.1. The PPAN presents the following challenges that should be addressed: Hunger Child undernutrition Maternal undernutrition Deficiencies in iron, iodine and vitamin A Obesity and overweight
1.2. ACCELERATED HUNGER-MITIGATION PROGRAM (AHMP)
1.2.1. The Hunger-Mitigation Program (HMP) initially had two major components, the Food for School Program andTindahan Natin. Food for School Program (FSP) - involves the provision of 1 kilo of iron-fortified rice daily for 120 days to families who suffer from severe hunger through preschool and elementary school children and children in day care centers. Tindahan Natin - ensures availability of basic commodities (e.g. rice and instant noodles) at lower prices for poor families.
1.3. BARANGAY NUTRITION SCHOLAR (BNS) PROGRAM
1.3.1. The Barangay Nutrition Scholar (BNS) Program is a human resource development strategy of the Philippine Plan of Action for Nutrition, which involves the recruitment, training, deployment and supervision of volunteer workers or barangay nutrition scholars (BNS).
1.4. PROMOTE GOOD NUTRITION (PGN)
1.4.1. The Promote Good Nutrition component of AHMP aims to improve the nutrition knowledge, attitudes and practices of families to increase demand for adequate, nutritious and safe food.
1.5. NUTRITION MONTH THEMES THROUGH THE YEARS
1.6. MILLENIUM DEVELOPMENT GOAL ACHIEVEMENT FUND 2030
1.6.1. MDG-F 2030: Ensuring Food Security and Nutrition for Children 0-24 Months in the Philippines
1.7. PHILIPPINE FOOD AND NUTRITION SURVEILLANCE SYSTEM
1.7.1. MONITORING AND EVALUATION OF LOCAL LEVEL PLAN IMPLEMENTATION (MELLPI)
1.7.2. OPERATION TIMBANG PLUS
1.7.2.1. Operation Timbang (OPT) Plus is the annual weighing and height measurement of all preschoolers 0-71 months old or below six years old in a community to identify and locate the malnourished children.
1.7.3. INTEGRATED FOOD SECURITY PHASE CLASSIFICATION (IPC)
1.7.3.1. The Integrated Food Security Phase Classification or IPC is a set of tools and procedures to classify the nature and severity of food insecurity. It classifies areas with acute food insecurity into five phases and with chronic food insecurity into four levels.The IPC approach incorporates, and is strengthened by, specific analytical methods and mapping protocol. The IPC focuses on answering questions related to the situation analysis. IPC promotes a common food security analysis language and currency that allows comparability across time and space, and across countries and regions. The IPC is not a food security data collection system or methodology for directly measuring food insecurity nor does IPC replace the need for specific methods that collect and analyze various dimensions of food security in any particular way.
1.7.4. EARLY WARNING SYSTEM (EWS)
1.8. NUTRISKWELA COMMUNITY RADIO
1.8.1. The Nutriskwela Community Radio Network Program of the National Nutrition Council was born of a need for a long-term and cost-efficient strategy to address the problem of hunger and malnutrition in the Philippines through the use of radio, the most available form of mass media.
1.8.2. Nutriskwela Community Radio aims to empower the community through the dissemination of correct, relevant and up-to-date nutrition and health information, as well as educational and developmental information from all relevant sectors of the community, government agencies, and non-government organizations.
2. Region IV-B - MIMAROPA
3. The region's economy relies mostly on agriculture, fishing and ecotourism, making it one of the strongest in the country. MIMAROPA is one of the Philippine's top producers of rice, banana, coconut, mango, cashew, papaya and cassava, which are included among the country's top export products.
4. Region IV-B consists of five provinces:
4.1. Occidental Mindoro- The Marine Wonderland
4.1.1. Occidental Mindoro is a province of the Philippines located in the MIMAROPA region in Luzon. "Home of the Indigenous Mangyans". Its capital is Mamburao and occupies the western half of the island of Mindoro
4.1.2. The present Occidental Mindoro is an agricultural area devoted to the production of food. It is the leading activity and source of seasonal employment in the province, participated in by almost 80 per cent of the population, including children.
4.2. Oriental Mindoro - BeautifulBountiful
4.2.1. Oriental Mindoro occupies the eastern part of the island of Mindoro. It is bounded on the north by the Verde Island Passage, on the east by Tablas Strait, on the west by Occidental Mindoro, and on the south by Semirara Island. The province´s varied topography is dominated by rugged mountain ranges on the west and fertile valleys towards the eastern coast.The Halcon mountain range runs from north to south and serves as the province´s natural boundary with Occidental Mindoro. Mt. Halcon is the fourth highest peak in the Philippines.The province does not have pronounced dry or rainy periods but is open to southwest monsoons and typhoons.
4.2.2. Puerto Galera is a major tourist destination. Its numerous white beaches are ideal for water skiing, windsurfing, scuba diving, snorkeling, boating and swimming. Aside from its beaches, Puerto Galera has other attractions. A mini-museum in the compound of the Catholic Church displays valuable Chinese artifacts and porcelain dishes from the island´s early trading days.
4.2.3. The marble Cross at Muelle is a landmark in memory of the crew of a Spanish warship which sank in 1879. Tamaraw Falls, the largest waterfall in the province, is 131 meters above sea level with a natural swimming pool at its base. The Marble Quarry in Mt. Talipandan is where 17 different kinds of marble are extracted.
4.3. Marinduque - Beyond Moriones
4.3.1. Marinduque is a heart-shaped island between Tayabas Bay in the north and Sibuyan Sea to the south. It is separated from the Bondoc Peninsula in Quezon by the Mompog Pass. The highest peak in Marinduque is Mt. Malindig (formerly, Mt. Marlanga), a potentially active volcano with an elevation of 1157 meters.
4.3.2. The island has two major seasons—the dry season (November through February) and the rainy season (June through October), with a transitional period in between.
4.3.3. Marinduqueños are said to be very hospitable in nature and are very welcoming. One such custom reflecting this is putong or tubong, which is a custom of welcoming and honoring friends and visitors. The honoree (or honorees) are seated and crowned with flowers while local women dance and sing for them. Other well-wishers throw coins and flower petals for long life. Marinduqueños are of Tagalog origin and speak Tagalog.
4.4. Romblon -Islandsof Gem and Charm
4.4.1. Romblon is BEST KNOWN AS THE MARBLE CAPITAL OF THE PHILIPPINES. It has been said that the quality of its marble.
4.4.2. The capital town of Romblon and the port town of Odiongan are the province's trade and commercial centers.
4.4.3. Situated at the heart of the Philippine archipelago, Romblon links the supply areas of Luzon, Visayas, and Mindanao. Endowed with rich natural wonders, Romblon is a cluster of twenty islands hemmed in by the Sibuyan Sea on the north, east and south, and the Tablas Strait on the west.
4.5. Palawan - ThePhilippines' Last Frontier
4.5.1. Its irregular coastline stretches almost 2000 kilometers long, indented by numerous coves and bays. Highlands and rolling terrain covered with lush forests create a cool and scenic landscape.
4.5.2. Palawan is generally typhoon- free. Warm weather prevails from March to May , while the coolest months are from December to February. Heavy rainfall is usually experienced in July and August, often accompanied by the southwest monsoon.
4.5.3. Palawan is one of the few relatively peaceful provinces in the country. The crime rate is relatively low and most Palaweños are contented to lead simple lifestyles.
4.5.4. Food is abundant to all who are willing to work for a living. The province is a melting pot of migrants from various parts of the Philippines and other countries.
4.5.5. Palawan is a narrow archipelago of 1,700 islands on the western border of the Philippines. It's geographical location makes it seem remote from the rest of the country, and in fact, some of its southern islands are closer to Malaysia than to other provinces. Palawan is the country's largest province.