STUDY IS ABOUT USES OF ONE LANGUAGE IN CLASSROOM SITUATIONS IN MAURITIUS
by Marie Rose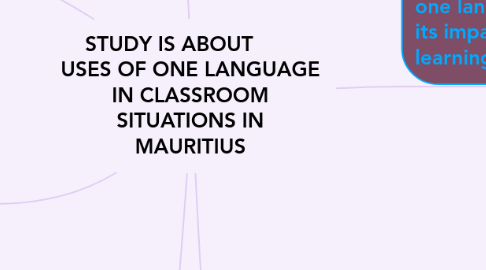 1. focus group notes, recordings, videos
2. being conducted to examine and explore the efficiency of using one language by educators and its impact on teaching and learning process
2.1. study to be carried out in some private and public secondary schools in Grade 7
2.2. use of
2.2.1. exploratory research design
2.2.1.1. consists of
2.2.1.1.1. ethnography to develop cultural awareness and sensitivity among educators
2.2.1.1.2. phenomenology to study the educator's lived experiences in classrooms
2.2.1.1.3. participatory action research
2.2.1.1.4. case study through an in-depth investigation using a small sample of educators
2.3. include
2.3.1. relative short time frame
2.3.1.1. example
2.3.1.1.1. 1 year from January to December
3. use of a relatively small subjectively selected sample to maximize generalization of insights
4. Data collection techniques
4.1. Consists of
4.1.1. case study notes, videos, recordings
4.1.2. artifacts, pictures, drawings, physical objects
4.1.3. In-depth/ open -ended unstructured interviews, semi-structured interviews, can begin with more general open-ended questions then moving toward greater precision as more information emerges
4.1.4. action-oriented participation with the educators being studied
4.1.5. educator's observation field notes, videos, recordings in classroom situations.
4.1.6. minutes of meetings, personal documents e.g letters, correspondence, personal diaries, photographs
5. Qualitative Data
5.1. consists of
5.1.1. structured text e.g writings, survey comments, new article etc..
5.1.2. unstructured text e.g transcription, interviews, focus groups, conversation
5.1.3. audio and video recordings
5.1.4. related to concepts, opinions, values and behaviors of educators
5.2. can be found in classroom observation, in enquiry, transcripts of educator's interviews and focus groups, copies of documents
6. Data Analysis
6.1. consists of
6.1.1. Transcribing and organizing all the data
6.1.2. Giving codes to our first set of field notes obtained from observations, interviews
6.1.3. Noting personal reflections or other comments
6.1.4. sorting and sifting
6.1.4.1. through
6.1.4.1.1. materials to identify similarities and differences between variables
6.1.5. Taking the commonalities and differences to the field in the next wave of data collection
6.1.6. Elaborating a small set of generalizations
6.1.7. Examining those generalizations in light of a formalized body of knowledge in the form of theories.
6.2. use of
6.2.1. Deductive Approach to group the data and then look for similarities and differences