WILLIAM SHAKESPEARE (1564 - 1616)
by Signe Hovmøller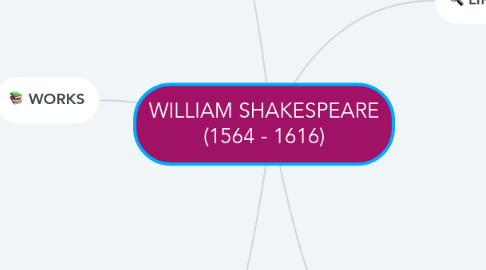 1. THE ELIZABETHAN ERA
1.1. Queen Elizabeth I was monarchy of England
1.2. It was the time when women were dependent on there male relatives to support them with practically everything
1.2.1. The Elizabethan era experienced an emphasis on culture and entertainment due to the Renaissance period
1.2.1.1. Which leads to the fact, that all members of society could attend (excluding women), as the theatre grew more popular and ultimately became one of the most popular forms
1.3. Shakespeare lived during this era
2. WORKS
2.1. In total he wrote 37 or 38 plays!
2.2. He wrote different genres
2.2.1. Histories
2.2.1.1. Henry IV Henry V Henry VI Henry VIII King John Richard II Richard III
2.2.2. Comedies
2.2.2.1. Winter's Tale As You Like It Measure for Measure The Comedy of Errors
2.2.3. Poems
2.2.3.1. The Sonnets A lover's Complaint Funeral Elegy The Rape of Lucrece
2.2.4. Tragedies
2.2.4.1. Hamlet Romeo and Juliet Macbeth Othello Antony and Cleopatra
3. CAREER
3.1. As child he attended grammar school
3.1.1. The grammar school was located in Stratford close to his own house. The name of the school: King's New School
3.1.2. Learned the basic of reading and writing
3.1.3. Studied Latin (at age 7) Should be able to speak it fluently If the boys weren't speaking Latin but English, they would be punished
3.2. Ended his education at age 14 due to his father's financial issues.
3.2.1. Impressive how much Shakespeare achieved in life, and how much success he got in the light of he only had 7 years at formal school
3.3. He never attended university !!
4. LIFE
4.1. He was born in year 1564
4.1.1. he died April 23, 1616 (His death is apparently a mystery, just like a lot of information of his personal/private life
4.1.2. The name of his parents
4.1.2.1. Mother: Mary Arden Shakespeare
4.1.2.2. Father: John Shakespeare.
4.1.3. Married to Anne Hathaway at age 18 And she was 26 at that moment
4.1.3.1. He and Anna got three children: - Hamnet Shakespeare - Judith Quiney - Susanna Hall
4.1.4. He grew up in Stratford-upon-Avon, which was an small English market town
4.1.5. Lived through the black death and the Elizabethan era
4.2. He had several professions such as:
4.2.1. actor, dramatist, businessman, theatre producer, shareholder and owner of land in Stratford.
4.2.2. SHAKESPEARE also called: "Bard of Avon"
5. PLAYS
5.1. The Globe Theatre (London) - built in 1599 by Shakespeare's playing Company, Chamberlain's Men (which changed to "The King's Men in 1603)
5.1.1. Motto of the Globe Theatre: "All the world is a stage."
5.2. Some people claim, that Elizabeth I wrote Shakespeare's plays.
5.3. Only MEN could play in Shakespeare's play
5.3.1. In the Elizabethan era MEN would play the female parts, like Ophelia in Hamlet.
5.4. Women were acting elsewhere in Europe, but they were not allowed to perform in public theatre in England until 1660.
5.5. Famous plays: - Hamlet - Othello - Macbeth