Colours
by
Laura Shaw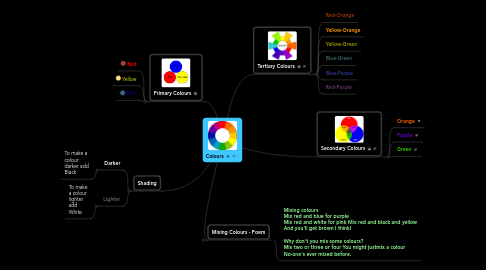 0.0
stars - reviews range from
0
to
5
Primary Colours
Red
Yellow
Blue
Secondary Colours
Secondary Colours are made by mixing two primary colours together.
Orange
Orange can be made by mixing Red and Yellow
Purple
Purple can be made by mixing Red and Blue
Green
Green can be made by mixing Blue with Yellow
Tertiary Colours
Tertiary colours are made   are made by mixing a primary colour with an adjacent secondary color. On the colour wheel, the tertiary colours are located between the primary and secondary colours they are made from.
Red-Orange
Yellow-Orange
Yellow-Green
Blue-Green
Blue-Purple
Red-Purple
Shading
Darker
Lighter
Mixing Colours - Poem
Mixing colours Mix red and blue for purple Mix red and white for pink Mix red and black and yellow And you'll get brown I think! Why don't you mix some colours? Mix two or three or four You might justmix a colour No-one's ever mixed before.