Parental Involvement
by
Terry Parent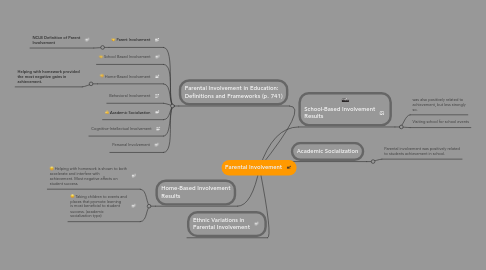 0.0
stars -
0
reviews range from
0
to
5
Parental Involvement
"Theories, research, and policies have identified the significant role of families, family-school relations, and parental involvement as a way to close the demographic gaps in achievement and maximize students' potential" (p. 740). All types of parental involvement is beneficial to student achievement; however, the types of involvement in which parents engage matter (p. 758).
Ethnic Variations in Parental Involvement
African American parents have difficulties trusting schools and teachers due to negative past history that included biases and discrimination at school (pgs. 742-743).      
Academic Socialization
Parental involvement was positively related to students achievement in school.
School-Based Involvement Results
was also positively related to achievement, but less strongly so.
Visiting school for school events
Parental Involvement in Education: Definitions and Frameworks (p. 741)
Parent Involvement
Parents' interactions with schools and with their children to promote student success.
School Based Involvement
e.g. volunteering at school, communication between parents and teachers, and involvement in school governance- parent conferences.
Home-Based Involvement
Engaging in educational activities at home.
Behavioral Involvement
Includes both home-based and school-based involvement. Active connections and communicaiton, volunteering at school, and assisting with homework.
Academic Socialization
Includes communicating parental expectations for education and its value or utility, linking school-work to current events, fostering educational and occupational aspirations, discussing learning strategies with children, and making preparations and plans for the future.
Cognitive-Intellectual Involvement
Included parental role in exposing their children to educationally stimulating activities and experiences- going to museums etc.
Personal Involvement
Attitudes and expectations about school and education conveying enjoyment of learning.
Home-Based Involvement Results
Helping with homework is shown to both accelerate and interfere with achievement. Most negative affects on student success.
Negative relations may be due to parental interference with child's autonomy, parental pressure, and differences in how parents and schools present the material (p 757).
Taking children to events and places that promote learning is most beneficial to student success. (academic socialization type)
Taking your child to the movies has been shown to have more consistent positive gains in achievement. (p. 757).