my network
by pouya kevin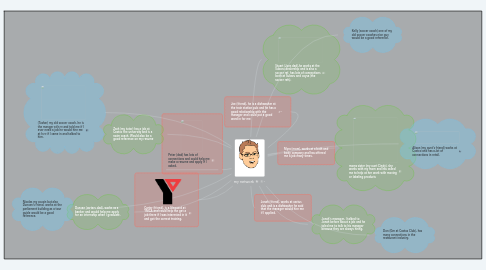 1. Peter (dad) has lots of connections and could help me make a resume and apply if I asked.
2. Myra (mom)- works at a bath and body company and has offered me a job many times.
3. Joe (friend)- he is a dishwasher at the train station pub and he has a good relationship with the manager and could put a good word in for me
4. Jonah (friend)- works at cactus club and is a dishwasher he said that the manager would hire me if I applied.
5. Carter (friend)- is a lifeguard at YMCA and could help me get a job there if I was interested in it and got the correct training.
6. Stuart (Joes dad)-he works at the Subaru dealership and is also a soccer ref. has lots of connections both at Subaru and coysa (the soccer refs).
7. moms sister (my aunt Cindy)- she works with my mom and has called me to help at her work with moving or labeling products
8. Jonah's manager- I talked to Jonah before about a job and he toled me to talk to his manager because they are always hiring.
9. (Tushar) my old soccer coach- he is the manger at h20 and told me if I ever need a job he would hire me at h20 if I came in and talked to him.
10. Duncan (carters dad)- works as a banker and would help me apply for an internship when I graduate.
11. Zach (my tutor) has a job at Costco the university and is a swim coach. Would also be a good reference on my resume
12. Alison (my aunt's friend) works at Costco and has a-lot of connections in retail.
13. Don (Gm at Cactus Club)- has many connections in the restaurant industry.
14. Nicolas my cousin but also Duncan's friend. works at the parliament building as a tour guide would be a good reference.
15. Kelly (soccer coach) one of my old soccer coaches nice guy would be a good reference.