Web 2.0 and Mobile Maps
by Elliott Sterett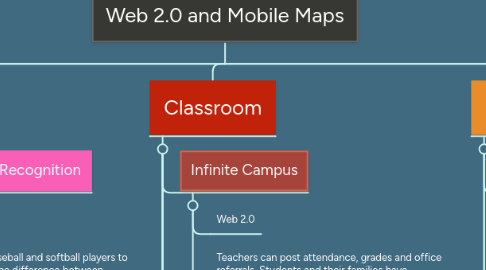 1. Collaboration
1.1. LinkedIn
1.1.1. Web 2.0
1.1.2. LinkedIn allows people in the same profession to connect with each other through a network for jobs.
1.2. Remind
1.2.1. App
1.2.2. Remind allows a group administrator to send messages to members and allows members to communicate with each other and the administrator of the group.
1.3. Skype
1.3.1. Web 2.0
1.3.2. Skype allows users to communicate over video through an internet connection. Users can also use the microphone only to communicate with each other.
1.4. PE Central
1.4.1. Web 2.0
1.4.1.1. PE teachers can collaborate on different lesson plan ideas
2. Analyzing
2.1. Game Sense Pitch Recognition
2.1.1. Web 2.0
2.1.2. Game Sense helps baseball and softball players to be able to recognize the difference between pitches while sitting in front of their computer.
2.2. HUDL
2.2.1. Web/App
2.2.2. HUDL allows for players and coaches to analyze game film to help the athlete see what he/she needs to improve on
2.3. Coach's Eye
2.3.1. App
2.3.2. Coach's Eye can break down film into the simplest form through slow motion and freeze frames while a coach is trying to improve an athletes skill.
3. Organization
3.1. Team Snap
3.1.1. Web/App
3.1.2. It provides a detailed calendar with games, practices for athletes and parents. The App will send a reminder out to athletes the day of games and practices where the student can confirm they will attend or tell the coach they won't be able to make it. Coaches can also send announcements to players and parents about any additional information they need to know in regards to the program they are involved with. Team Snap also allows photos from games to be uploaded where parents and athletes can look back at and use.
3.2. Doodle
3.2.1. Web 2.0
3.2.2. A web based calendar that can be used to schedule events, meeting and help with time management.
3.3. Calendly
3.3.1. Web 2.0
3.3.2. Calendly is a web based software that allows a group of people to edit a calendar to make sure everyone is aware of the different schedules.
3.4. PRIVIT
3.4.1. Web/App
3.4.1.1. Software that can help organize health care topics for student athletes. The administrator sets the documents that need to be uploaded and the students/parents upload the required paperwork
3.5. Game Changer
3.5.1. Web/App
3.5.1.1. Software that keeps the score of a baseball/softball game online. You can stream the scoring live online to parents. After each game is complete, the stats will compile
4. Classroom
4.1. Infinite Campus
4.1.1. Web 2.0
4.1.2. Teachers can post attendance, grades and office referrals. Students and their families have unlimited access to check the student's records at school.
4.2. Google Classroom
4.2.1. Web 2.0
4.2.2. Teacher's can create an online classroom that students with google accounts can join. The teacher can post both assignments and announcements. Teacher's can grade assignments and provide feedback.
4.3. Online Stopwatch
4.3.1. Web 2.0
4.3.2. You can use this for class activities. Setting a time limit on activities can make them more productive.
4.4. Twiddla
4.4.1. Web 2.0
4.4.1.1. Students can access an online whiteboard or document that they can add images, web pages, edit and chat with others.
4.5. Kahoot!
4.5.1. Web/App
4.5.1.1. A teacher creates a review or quiz online through Kahoot!. Students download the App on their phone and can take the review or the quiz online and their scores will appear immediately to the teacher and the student receives instant feedback.
5. Creation
5.1. Shutterfly
5.1.1. Web/App
5.1.2. Shutterfly allows someone to create multiple items such as albums, games and puzzles with their own personal pictures.
5.2. Vimeo
5.2.1. Web/App
5.2.2. Users of Vimeo can upload and share videos with other users.
5.3. Flickr
5.3.1. Web/App
5.3.2. Users have a choice of what their account is; Free, Ad Free and Doublr. Free and Ad Free have the same amount of storage, but Ad free requires a fee to avoid advertisement. Doublr has double the amoutn of storage as a free or Ad free.