Me
by Ty Smithson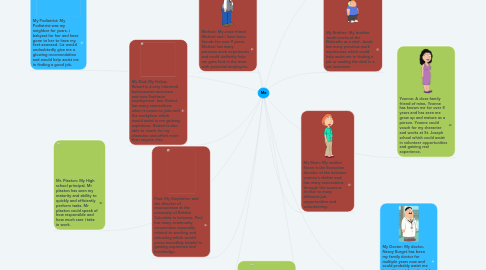 1. My Mom: My mother Karen is the Executive director of the kelowna women's shelter and has many connections through the womens shelter to many different job opportunities and volunteering.
2. My Dad: My Father, Robert is a very informed buisnessman and owns and runs Smithson employment law. Robert has many connections when it comes to jobs and the workplace which would assist in me gaining expirience. Robert is also able to vouvh for my character and effort more than anyone else.
3. My Brother: My brother Jacob works at the Eldorado as a chef. Jacob has many previous work expiriences which could help assist me in finding a job or sealing the deal in a job interview.
4. Micheal: My close friend Micheal and i have been friends for over 9 years, Micheal has many previous work expiriences and could deffinitly help me geta foot in the door with potential employers.
5. Paul: My Stepfather and the director of neuroscience at the university of Brittish Colombia in kelowna. Paul has many community connections especially related to working and schooling which would prove incredibly helpful in gaining expirience and knowledge.
6. Mr. Judd: My previous high school English teacher. Mr. Judd has commented on my outstanding character and effort i put into my work and has offered to be a character reference on my resume. Mr. Judd is an outstanding member of the community who is very involved with volunteering and would be able to link me with many jobs.
7. Yvonne: A close family friend of mine, Yvonne has known me for over 8 years and has seen me grow up and mature as a person. Yvonne could vouch for my character and works at St. Joseph school which could assist in volunteer opportunities and gaining real experience.
8. Mr. Plaxton: My High school principal, Mr plaxton has seen my maturity and ability to quickly and efficiently perform tasks. Mr plaxton could speak of how responsible and how much care i take in work.
9. My Dentist: My dentist is a family friend ive known for as long as i can remember, i see him every 6 months or so and he would definitely be a good character referance, he could speak of how responsible i am and how hard i work. He has plenty of professional contacts that could help me.
10. My Doctor: My doctor, Nancy Burget has been my family doctor for multiple years now and could probably assist me in getting a job and could attest to how well i work.
11. My Orthodontist: Ive known my orthodontist for close to 2 years and he would certainly give me a good character referance and assist me by using his professional contacts to help me get a job.
12. My Podiatrist: My Podiatrist was my neighbor for years, i babysat for her and have gone to her to have my feet assessed. Liz would undoubtedly give me a glowing recomendation and would help assist me in finding a good job.
13. Mrs. Smith: Previously my elementary school teacher and a family member of a close friend of mine. Mrs smith is very kind and has known me for years, she would no doubt give me a great recommendation and would help me find work.