SOLAR SYSTEM PROJECT
by Clara Moreno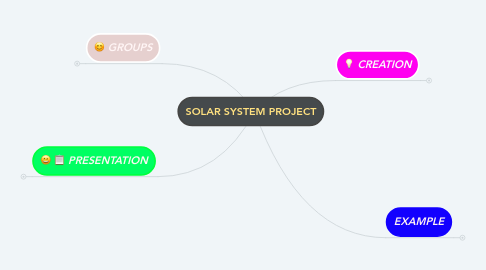 1. CREATION
1.1. Planets
1.1.1. Create them with the materials needed.
1.1.1.1. Mercury, Venus, The Earth and Mars
1.1.1.2. Jupiter, Saturn, Neptune and Uranus
1.2. Information
1.2.1. Look for on the Internet basic information about each planet.
1.3. Cardboard
1.3.1. You have to decorate the cardboard in which the planets are going to be.
2. PRESENTATION
2.1. At the end, each group is going to explain how have they done they task.
3. EXAMPLE
3.1. Pay attention and get ideas!
4. GROUPS
4.1. You are going to be divided in 4 teams
4.1.1. TEAM 1- PLANETS
4.1.2. TEAM 2. PLANETS
4.1.3. TEAM 3. INFORMATION
4.1.4. TEAM 4. DECORATE CARDBOARD