In the Life of Danielle Bolduc
by Danielle Bolduc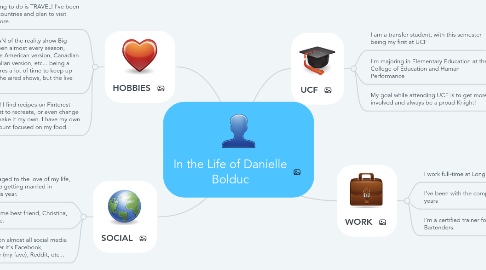 1. UCF
1.1. I am a transfer student, with this semester being my first at UCF
1.2. I'm majoring in Elementary Education at the College of Education and Human Performance
1.3. My goal while attending UCF is to get more involved and always be a proud Knight!
2. WORK
2.1. I work full-time at LongHorn Steakhouse
2.2. I've been with the company for almost 5 years
2.3. I'm a certified trainer for the Wait Staff and Bartenders.
3. HOBBIES
3.1. My favorite thing to do is TRAVEL! I've been to 5 different countries and plan to visit many, many more.
3.2. I'm a SUPERFAN of the reality show Big Brother. I've seen almost every season, whether it's the American version, Canadian version, Australian version, etc... being a superfan requires a lot of time to keep up with not only the aired shows, but the live feeds.
3.3. I love cooking! I find recipes on Pinterest and try my best to recreate, or even change it up a bit to make it my own. I have my own instagram account focused on my food.
4. SOCIAL
4.1. I'm happily engaged to the love of my life, Talon! We will be getting married in November of this year.
4.2. I've had the same best friend, Christina, since 6th grade.
4.3. You can find me on almost all social media platforms, whether it's Facebook, Instagram, Twitter (my fave), Reddit, etc...