Mind Map: Web 2.0 Tools/ Mobile Apps
by Conner McLaughlin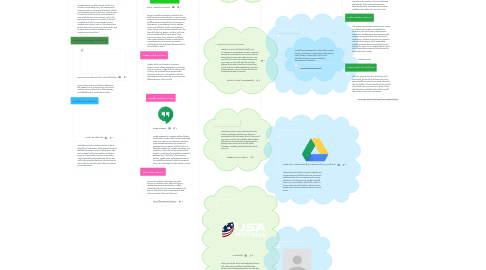 1. Analysis
1.1. Hudl Software: Web 2.0/App
1.1.1. Videoanalyse und Team Management leicht gemacht
1.1.2. Hudl is a product and service of Agile Sports Technologies, Inc. providing tools for coaches and athletes to review game footage and improve team play. Its initial product line served college and professional American football teams, but today, the company provides video services to youth, amateur, and professional teams in football as well as other sports including soccer, basketball, volleyball and lacrosse.
1.2. Gamechanger: Web 2.0/App
1.2.1. GameChanger Baseball, Softball
1.2.2. GameChanger is a mobile app and website that provides scorekeeping, stats, Live GameStreams, and recap stories to thousands of baseball, softball and basketball teams and their fans. GameChanger is completely free for coaches, scorekeepers and team administrators. Some content, such as live game scores and game stat overviews, is free and accessible to all with a GameChanger account. Premium Fan Content, such as a live GameStream of plays, box scores, season stats, recap stories, and in-game alerts, requires a monthly or yearly Premium Fan Subscription.
1.3. Krossover Hoops: Web 2.0
1.3.1. Krossover Game Film Tools for Coaches & Athletes
1.3.2. Krossover for coaches and athletes offers game film tagged for you, advanced stats, shot charts, tendency reports, telestrations, film exchange, and highlights all at a professional quality.
1.4. Coaches Eye: Web 2.0
1.4.1. Coach's Eye Video App
1.4.2. This video analysis tool allows coaches to break down film of their teams, addressing such issues as individual mechanics or team performance. Clips can be played back in slow motion or broken up frame-by-frame to give coaches a closer look at what's happening and provide their players and staff with appropriate feedback. They can even be shown side-by-side with other videos to compare past performances.
2. Communication
2.1. Remind: App
2.1.1. Remind
2.1.2. Remind (previously Remind101) is a private mobile messaging platform that enables teachers, coaches, parents, students, students, and administrators in K–12 schools to communicate with each other.The platform has more than 20 million monthly active users across the United States.
2.2. Band: App
2.2.1. BAND - Organize your groups
2.2.2. BAND is a mobile community application that facilitates group communication. Users can create separate spaces for communicating with members of different groups depending on the purpose of those groups. Types of groups include existing circles such as friends, family, campus groups, teams, clubs as well as interest-based groups, like those for hobbyists, gamers, and fans, which are also searchable within the app. BAND's core features are Board, Chat, Calendar, and Album. Main communications happen on Board where announcements and comments are posted. Polling, file sharing, and image/video sharing are also possible on Board
2.3. Wiggo: Web 2.0/App
2.3.1. Wiggio, which can be used on a laptop or desktop as well, allows team leaders to schedule and post practices, assign drills for athletes to do at home, and send emails and text messages directly from the app. It is especially useful for managing more than one team, as you can create different groups. This app is free
2.4. Google Hangouts: App
2.4.1. Google Hangouts: App
2.4.1.1. Google Hangouts
2.4.1.2. Google Hangouts is a communication platform developed by Google which includes messaging, video chat, SMS and VOIP features. It replaces three messaging products that Google had implemented concurrently within its services, including Google Talk, Google+ Messenger. and Hangouts, a video chat system present within Google+. Google has also stated that Hangouts is designed to be "the future" of its telephony product, Google Voice, and integrated some of the capabilities of Google Voice into Hangouts. Users can be messaged by their Google+ account
2.5. The Cube: Web 2.0
2.5.1. The latest in online broadcasting, The Cube focuses on televising major high school events ranging from games to graduations. It offers streaming video for those who can't make it to the game or alumni who want to keep track of their alma-mater from their new living area.
2.5.1.1. https://thecube.com/welcome
3. Safety/Rules
3.1. First Aid: App
3.1.1. Not all high schools have the luxury of an on-staff trainer who is able to attend practices and workouts, but this app can provide coaches with some guidance when they're confronted with a player injury and they're not sure what to do. Whether it's a bone fracture or a minor scrape, First Aid offers illustrations, videos and descriptions for how coaches and staff should treat a number of different injuries. It's certainly a better alternative to being caught without a plan or procedure, and because the app is free to anyone with a compatible device, there's no risk in having it on hand.
3.1.1.1. https://play.google.com/store/apps/details?id=com.cube.arc.fa&hl=en
3.2. Weather Bug: App
3.2.1. Local and National Weather Forecasts, Radar & News | WeatherBug
3.2.2. Coaches for outdoor sports must pay close attention to the weather, and the WeatherBug app includes all the necessary features for lightning detection, heat index and any other conditions that might put your team at risk.
3.3. Train Heroic: Web 2.0
3.3.1. This unique program gives athletes instant access to college-level strength and conditioning programs. Train Heroic gives athletes expert instruction, breaking down the movements and workouts most essential to improving overall performance. Athletes and coaches can set goals and track their progress while undertaking training programs that are customized to meet their needs. There also is a video feedback option that allows athletes to get real-time instruction from world-class coaches.
3.3.1.1. trainheroic.com/
3.4. USGA Rules of Golf: App
3.4.1. This app, developed by the United States Golf Association, has put all of the basic rules to the game of golf in the palm of your hand. The app is laid out similar to that of a book but is more easily viewed and a player can even search the type of situation they are dealing with and the app will direct them to the correct rule section.
3.4.1.1. www.usga.org/content/usga/home-page/apps.html
4. Collaboration
4.1. Facebook: Web 2.0/App
4.1.1. Facebook – Anmelden oder Registrieren
4.1.2. While Facebook is a social utility that can connect you with friends as well as with students, you can also use this tool to bookmark Web sites and specific Internet pages. Facebook can also be used to share information between coaches, players, and athletic directors about articles, rules changes, or any type of new philosophy.
4.2. Twitter: Web 2.0/App
4.2.1. Twitter is a service for friends, family, and co–workers to communicate and stay connected through the exchange of answers that can be no longer than 140 characters and spaces per post. Use this tool to help your students/players stay up-to-date, as you could advertise a Twitter address that students could use to learn about school projects, reading assignments, and other announcements. You can also use this tool as a bookmark manager for research
4.2.1.1. Twitter. It's what's happening.bird
4.3. LinkenIn: Web 2.0
4.3.1. Sometimes you just want to get away from the students. LinkedIn provides a way for you to communicate with your peers about all aspects of your career, and it's also useful for bookmarking. LinkedIn can also be used to share information between these peers that deal with similar situations, struggles, and triumphs that you do every day.
4.3.1.1. LinkedIn: Log In or Sign Up
4.4. USA Football: App
4.4.1. USA Football
4.4.2. With so much talk about keeping football players safe, using proper techniques and following protocol, the varying messages can be confusing. The USA Football app simplifies instruction for coaches by providing information on concussion awareness, fitting your players with equipment, tackling fundamentals and heat preparedness.
4.5. Dropbox: Web 2.0
4.5.1. Dropbox Business
4.5.2. Dropbox is a file hosting service that offers cloud storage, file synchronization, personal cloud, and client software. Dropbox creates a special folder on the user's computer, the contents of which are then synchronized to Dropbox's servers and to other computers and devices that the user has installed Dropbox on, keeping the same files up-to-date on all devices.
5. Organization
5.1. Team Snap: App
5.1.1. TeamSnap Sports Team, Club & League Management App
5.1.2. This team management program helps league and club coaches handle the day-to-day operations of their teams, maintaining schedules, rosters, photos and other related files. The app also lets those coaches receive payments from their members for participation fees or other expenses
5.2. First Touch: App
5.2.1. A multi-team managment app that allows coaches, parents, and players to communicate through text, email, image, or video call as well as send directions to games, practice schedules, documents, and calendars.
5.2.1.1. www.firsttouchteam.com/
5.3. Google Drive: Web 2.0
5.3.1. Google Drive - Cloud Storage & File Backup for Photos, Docs & More
5.3.2. This google service allows anyone to organize and store documents of all kinds with easy and nearly unlimited space. If you are someone who creates and shares a lot of paper work, google Drive will allow you to create folders, share with a click of a button, and store online for free. The best part is google Drive can be accessed through any type of device.
5.4. Google Sites: Web 2.0
5.4.1. Google Sites
5.4.2. Google Sites is a structured wiki- and Web page-creation tool offered by Google as part of the G Suite productivity suite. The goal of Google Sites is for anyone to be able to create a team-oriented site where multiple people can collaborate and share files.