The Effects Of Cocaine
by Melissa Victoriia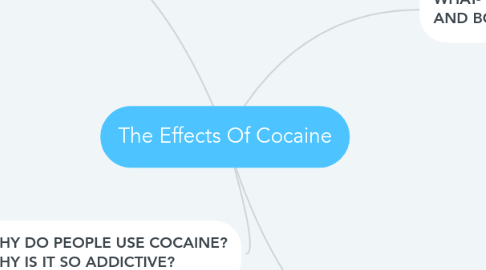 1. WHAT- EFFECTS ON THE BRAIN AND BODY
1.1. increases risk for seizures, heart attack, stroke, breathing failure any of which can result in sudden death
1.2. can induce states of delirium or psychosis
1.3. known to cause severe depression
1.4. irritability and mood disturbances
1.5. auditory and tactile hallucinations
1.6. liver kidney and lung damage
1.7. increased tolerance upon frequent usage
1.8. release of dopamine in the brain
1.9. blood clots, tumors, lesions
1.10. severe tooth decay
1.11. necrosis of body parts in severe cases
2. WHO- WHO USES COCAINE AND WHO IS AFFECTED BY IT
2.1. cocaine does not discriminate it is one of the most dangerous and commonly used drugs in the world
2.2. cocaine affects more than just the user as addiction also disrupts the family dynamic..
2.2.1. examples include CAS or Child Protective Services needing to intervene
2.3. cocaine provides a high of only 30 minutes when snorted twice that if injected
2.4. today's children are highly exposed to the ideas of elicit drug use within mainstream media
2.4.1. examples also include Netflix which airs variations of documentaries as well as films featuring cocaine and cocaine use
2.5. highly expensive causes people to incur extreme volumes of debt
3. WHERE- WHERE IS COCAINE PRODUCED & DISTRIBUTED
3.1. cocaine is primarily produced and exported from South America, specifically plantations in Columbia
3.2. Prominence of Coca plant where cocaine is derived from each leaf has about 0.01% pure cocaine
3.3. Cocaine is distributed illegally, globally with millions of metric tons being imported annually
3.4. 35.5 million Americans said that they have tried cocaine by the age of 12
3.5. "El Chapo" the infamous founding father of cocaine as he pioneered the drug trade in mexico
4. WHY DO PEOPLE USE COCAINE? WHY IS IT SO ADDICTIVE?
4.1. short lived highs and increased tolerance upon frequent usage which becomes a dangerous equation for addiction
4.2. "cut" or additive added to the batch of cocaine created in order to "stretch" one's supply usually ammonium
4.3. The process of adding "cut" can be lethal as there have be occurrences of people adding fentanyl to cocaine with intent to kill
4.4. the release of dopamine, causes the brain to crave or want more of the illicit substances causing a highly addictive state
4.5. peer pressure or otherwise referred to as the "party all night drug"
4.6. cocaine is a stimulant causing bursts of energy of euphoria