International agreements have been the most successful strategy in protecting the carbon cycle. Discuss. (16)
by Graeme Eyre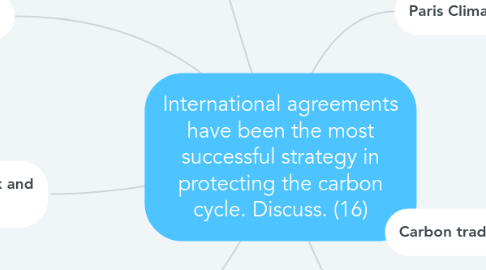 1. Introduction
1.1. Define International Agreement
1.2. Define Carbon Cycle
1.3. What we mean by 'protecting the carbon cycle'
1.3.1. Stop extra CO2 going into the atmosphere.
1.3.2. Add extra carbon sinks to remove CO2 from atmosphere.
2. Kyoto Protocol
2.1. International agreement to reduce CO2 emissions.
2.2. Reduce global CO2 emissions to 5.2% below 1990 levels by 2012.
2.3. One of the biggest emitters of CO2 - the United States - did not sign up.
2.4. The target was not met; however there is some evidence to show that if had not taken place emission would be even higher.
3. Paris Climate Change Agreement
3.1. Aim is to reduce global temperature rise to less than 2 degrees below pre-industrial levels.
3.2. Countries sign up and then need to agree strategies to meet these goals.
3.3. To early to see if effective - however the United States has threatened to withdraw based on current president.
4. Congestion Charging / Park and Ride Schemes
4.1. Schemes to incentive behavior that reduces carbon emissions.
4.2. Puts an extra charge on polluting behavior and makes it easier to do the 'right thing'
4.3. Has limited effect - as personal vehicles are a small % of total CO2 emissions / also many people will just pay.
5. Renewable Energy Sources
5.1. Renewable energy sources such as Wind, Solar and Hydro Power are used.
5.2. Cost per KWH is higher than energy sources using fossil fuels.
5.3. Limited due to weather conditions - produce less when it is needed the most -e.g. on coldest winter days.
6. Carbon trading
6.1. Involves swapping emissions with other countries.
6.2. Countries can earn offsets by afforestation which creates carbon sinks.
6.3. Countries and companies can play the system to do what is the most profitable rather than the best.
6.4. Countries/Companies can also mislead on their reporting of figures. VW misreporting and fixing car emissions testing.
7. Conclusion
7.1. International agreements are ineffective.
7.2. Other strategies have had limited impact.