Web 2.0 Tools
by Courtney Davis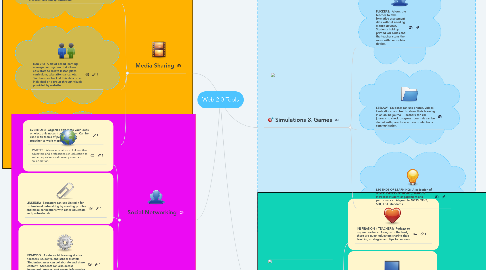 1. Simulations & Games
1.1. PLICKERS: Allows the teacher to take formative assessment data without needing mobile devices. Students hold up printed QR codes and the teacher scans the room with her mobile device.
1.2. SEESAW: Students can use photos, videos, illustrations, and text to show their learning in an online journal. Teachers can use journals to check progress. Journals can be shared with parents as a form of electronic communication.
1.3. LEGENDS OF LEARNING: A collection of online Science Games for grades 3-8. Increases student engagement and performance. Aligned to NGSS, TEKS, SOL, GSE standards.
2. Blogs & Podcasting
2.1. INSPIRATION 4 TEACHERS: Podcast to inspire teachers. Along with the host, there are guest educators sharing their teaching strategies and tips for success.
2.2. TEACHERS TALK TECH: A blog to help teachers learn new and effective tech ideas to use in their classroom. Some posts include differentiation and ELA skills practice with technology.
2.3. KHAN ACADEMY: Free online personalized learning resource for all ages in every subject matter. Students can work at their own pace. There is a free tool for parents to check children's progress.
3. Media Sharing
3.1. GOOGLE DRIVE: Allows people to store and organize files, share files and documents, create and share slide presentations and spreadsheets.
3.2. EDU 2.0: A cloud based learning management system that allows educators to create lesson plans, curriculum, take attendance, etc. Teachers can track all this data on an individual or a group through visuals provided by website.
3.3. EVERNOTE: Organize and share your ideas on electronic notes from anywhere. Can be used with teams of people working together to work more efficiently.
4. Social Networking
4.1. TWITTER: Allows educators to follow other educators and professionals in education to enhance professional development and collaboration.
4.2. LINKEDIN: Educators can use LinkedIn for professional networking by creating profiles and make connections with other educators and professionals.
4.3. EDMODO: A safe social learning site for teachers, students, and school districts. Students/classes can collaborate and share content. Students can also access homework, grades, and school information through this site.