Examples from the Field II
by Anne Damiano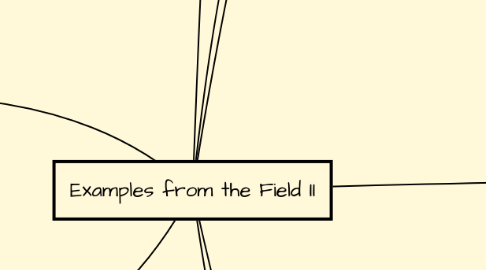 1. 10: Civilization Creation
1.1. HIGHLIGHTS
1.1.1. 9th grade students utilize a common program to make connections between history and creating a fictitious civilization
1.2. STRENGTHS
1.2.1. this project allowed students to be creative in their decision making while relying on overarching ideas in history
1.2.2. all decision had to be journaled and justified, which integrates language arts
1.2.3. students worked together to better understand large themes and trends from history in order to build complex societies
1.2.4. blending technology with history
1.2.5. multiple perspectives are considered as students used different cultures for inspiration
1.3. WEAKNESSES
1.3.1. false engagement may be an issue
1.4. REFLECTION
1.4.1. This authentic learning experience would engage my students from the start. Though I would be weary of false engagement. Another downside for me personally would be a lack of understanding of Mindcraft
2. 7: Life Science and Storybooks
2.1. HIGHLIGHTS
2.1.1. 7th grade students extended/shared their newfound knowledge about symbiosis with 2nd graders through a storybook.
2.2. STRENGTHS
2.2.1. teacher modeled and used guided practice to scaffold student learning
2.2.2. a simple technology was used to focus the students on the task at hand
2.2.3. a cross-curricular and multimedia approach was used
2.3. WEAKNESSES
2.3.1. the particular technology tool may have limited student creativity
2.3.2. the app is limited to a cellular device
2.4. REFLECTION
2.4.1. I was immediately intrigued by this project not only because it embodies the Triple E Framework, but uses a cross-curricular approach. My fourth graders LOVE to write so I envision using a similar project to allow them to write a story about the endangered species they have been researching.
3. 8: All American Road Trip
3.1. HIGHLIGHTS
3.1.1. 6th grade students use authentic, real-world problem solving to plan a "family" road trip
3.1.1.1. utilizing common application such as google maps and car rental websites
3.2. STRENGTHS
3.2.1. cross-curricular approach was used to teach social studies and mathematics concepts
3.2.2. students had perimeters to follow yet were given the opportunity to incorporate their interests
3.2.3. students go beyond solving simple math problems
3.2.4. this project not only engages their learning through learning goals but enhances as higher order thinking skills are used while extending their academic knowledge with authentic experiences
3.3. WEAKNESSES
3.3.1. it appears to be an independent project
3.3.2. students would need a firm understanding of the math concepts prior to the introduction of this project (unless skills were taught throughout)
3.4. REFLECTION
3.4.1. My students would enjoy aspects of this project and it would be an engaging way to integrate social studies with our mathematics lessons.
4. 9: Graphing Stories
4.1. HIGHLIGHTS
4.1.1. 9th grade students used their devices to connect math to their everyday lives
4.2. STRENGTHS
4.2.1. students were (most likely) already familiar with devices so they could focus on the task at hand
4.2.2. predictions were made and confirmed/disproved
4.3. WEAKNESSES
4.3.1. it is higher level so limits the versatility to other grade levels
4.4. RELFECTION
4.4.1. This project may be "out of our league" so to speak, but if I simplified some of the concepts, then students could benefit from making connections with their devices and a difficult mathematical concept.
5. 12: Simulated Gaming
5.1. HIGHLIGHTS
5.1.1. students virtually experience scenarios through interactive tools
5.2. STRENGTHS
5.2.1. students co-engage through technology
5.2.2. real-world
5.2.3. it leverages the way students think about various professions
5.3. WEAKNESSES
5.3.1. this project seems fitted for upper grades
5.4. REFLECTION
5.4.1. This project opens opportunities for students to engage in meaningful simulations. It is geared towards high school students who have the maturity and understanding to converse about the issues that are presented.
6. 11: E-Mentors
6.1. HIGHLIGHTS
6.1.1. 11th grade students utilize technology to build relationships with community members to make their dreams become a reality
6.2. STRENGTHS
6.2.1. learning life skills is what drives this project
6.2.2. exposed to professionals in desired careers who can provide guidance and perspective
6.2.3. a step-by-step process is followed so that students can complete their "5 Year Plan"
6.2.4. this is the ultimate project to EXTEND student learning as it bridges what they learn in class with the real world
6.3. WEAKNESSES
6.3.1. this project seems limited to students who are close to high school graduation
6.4. REFLECTION
6.4.1. I don't know how applicable this particular project is for my students as they are 10, but I also know that it is never too early to think and dream about the future. We write friendly letters in fourth grade and recently wrote persuasive letters to local government officials.
7. SIMILARITIES
7.1. teachers focused on the learning objectives FIRST
7.2. geared towards secondary-level students
7.3. students used high-order thinking skills
7.4. lessons/units project or problem-based
7.5. authentic, real-world learning
7.6. aligned with Triple E Framework
7.7. ITSE standards addressed
8. DIFFERENCES
8.1. variety of content and subject areas presented
8.2. different technologies tools utilized