my school
by Nor Naz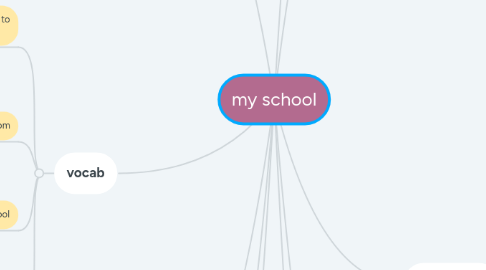 1. islamic study
1.1. kg1
1.1.1. adab with teachers
1.1.1.1. respect and listen to them, always greet and shake teachers hand, say thank you
1.1.2. adab with friends
1.1.2.1. do not fight,say sorry (pg23 L15)share your things, help one another like good khalifah( relate to khalifah oath)
1.1.2.2. ask permission, say may i borrow
1.1.2.3. take good care things in class
1.1.3. seerah
1.1.3.1. the teaching of Rasulullah SAW, sifat2 nabi ketika menuntut ilmu.
1.1.4. dua
1.1.4.1. recite dua before study allahumaatahalaina
1.2. kg2
1.2.1. adab in classroom
1.2.1.1. adab towards teacher and friends, respect and listen to them, always greet and shake teachers hand, say thank you , do not fight with friends,say sorry,share things, help other (relate to oath)
1.2.2. seerah
1.2.2.1. kisah nabi yg blum ajr? ikut kelas masing2
1.2.3. 5 pillar of islam
1.2.3.1. dah ajar stakat mana?
1.2.4. dua
1.2.4.1. doa mohon keberkatan ilmu yg bermanfaat. allahumma inni as aluka ilman nafiaan warizqan toiyiban mutaqabbala
2. vocab
2.1. W4 activities before you go to school
2.1.1. kg1
2.1.1.1. time ,shower, eat breakfast ( wear uniform, salam parent)
2.1.2. kg2
2.1.2.1. time, shower, eat breakfast, wear uniform, ride car, salam parent, salam teacher, arrange shoes, line up.
2.2. W3 outside your classroom
2.2.1. kg1
2.2.1.1. playground,ball, sand, toys, seesaw
2.2.2. kg2
2.2.2.1. jump rope, reading, corner, stage, canteen, office
2.3. W2 things you bring to school
2.3.1. kg1
2.3.1.1. bag, bottle, pencil box ( lunch box, )
2.3.2. kg2
2.3.2.1. school bag, waterbottle, lunch box, pocket money
2.4. W1 things in classroom
2.4.1. kg1
2.4.1.1. book,pencil,colour ( ruler,eraser, sharpener, glue)
2.4.2. kg2
2.4.2.1. whiteboard, markers, pen, duster, chair, table, posters, water colour, brush, pallets,paper
3. numeracy
3.1. kg1
3.1.1. w1
3.1.2. w2
3.1.3. w3
3.1.4. w4
3.2. kg2
3.2.1. w1
3.2.2. w2
3.2.3. w3
3.2.4. w4
4. LC Science
4.1. kg1
4.1.1. 4
4.1.2. 5
4.1.2.1. w1
4.1.2.2. w2
4.1.2.3. w3
4.1.2.4. w4
4.2. kg2
4.2.1. 5
4.2.1.1. w1
4.2.1.2. w2
4.2.1.3. w3
4.2.1.4. w4
4.2.2. 6
4.2.2.1. w1
4.2.2.2. w2
4.2.2.3. w3
4.2.2.4. w4
5. literacy kg1
5.1. reading
5.1.1. BM
5.1.1.1. w1
5.1.1.2. w2
5.1.1.3. w3
5.1.1.4. w4
5.1.2. BI
5.1.2.1. w1
5.1.2.2. w2
5.1.2.3. w3
5.1.2.4. w4
5.1.3. JAWI
5.1.3.1. w2
5.1.3.2. w3
5.1.3.3. w4
5.1.4. LQ
5.1.4.1. w1
5.1.4.2. w2
5.1.4.3. w3
5.1.4.4. w4
5.2. writing
5.2.1. w1
5.2.2. w2
5.2.3. w3
5.2.4. w4
6. physical developement
6.1. kg1
6.1.1. w1
6.1.2. w2
6.1.3. w3
6.1.4. w4
6.2. kg2
6.2.1. w1
6.2.2. w2
6.2.3. w3
6.2.4. w4
7. solat dan hafazan
7.1. kg1
7.1.1. w1
7.1.2. w2
7.1.3. w3
7.1.4. w4
7.2. kg2
7.2.1. w1
7.2.2. w2
7.2.3. w3
7.2.4. w4
8. deeniyah checklist
8.1. kg1
8.2. kg2
9. art and craft
9.1. kg1
9.1.1. w1
9.1.2. w2
9.1.3. w3
9.1.4. w4
9.2. kg2
9.2.1. w1
9.2.2. w2
9.2.3. w3
9.2.4. w4
10. literacy kg2
10.1. reading
10.1.1. BM
10.1.1.1. w1
10.1.1.2. w2
10.1.1.3. w3
10.1.1.4. w4
10.1.2. BI
10.1.2.1. w1
10.1.2.2. w2
10.1.2.3. w3
10.1.2.4. w4
10.1.3. JAWI
10.1.3.1. w1
10.1.3.2. w2
10.1.3.3. w3
10.1.3.4. w4
10.1.4. LQ
10.1.4.1. w1
10.1.4.2. w2
10.1.4.3. w3
10.1.4.4. w4
10.2. writing
10.2.1. w1
10.2.2. w2
10.2.3. w3
10.2.4. w4