Aisling Discoveries
by Peter Petrevski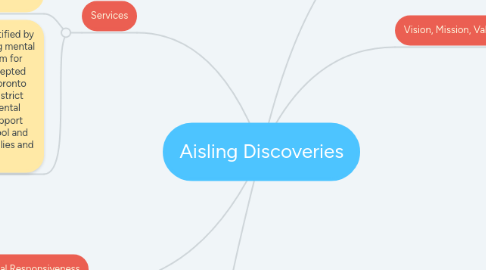 1. Who Are They?
1.1. They provide responsive services in partnership with families and communities to strengthen the social and emotional well-being of children
2. Vision, Mission, Values
2.1. Vision: An inclusive community where all children reach their full potential
2.2. Mission: We serve children living with developmental and mental health needs by enhancing emotional capacity and social well-being in partnership with families and communities.
2.3. Values: Excellence, Integrity and Accountability Diversity and Inclusion Leadership and Innovation Partnership and Collaboration
3. Services
3.1. Day Treatment services are provided in collaboration with the Toronto District School Board and the Toronto Catholic District School Board. The Day Treatment program provides individualized treatment and an educational alternative for children whose social, emotional and behavioural needs require a therapeutic setting and whose academic needs cannot be met within an adjustment or behavioural classroom at the local school board.
3.1.1. The program is available to elementary school-age children at three sites.
3.2. Student Support Services: Students identified by school board social work staff as requiring mental health services are referred to this program for counselling and therapy. Referrals are accepted through a protocol developed amongst Toronto District School Board, Toronto Catholic District School Board and local child and youth mental health services. The program goal is to support children in achieving success in their school and community through direct service to families and children.
4. Cultural Responsiveness
4.1. Multilingual Calendar
4.2. Service Philosphy
4.3. Multicultural Staff
4.4. Interpreters
5. What is Offered