Thesis Statement # 6
by
Andrea Lugue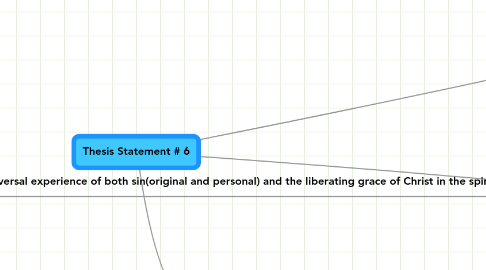 0.0
stars -
0
reviews range from
0
to
5
Thesis Statement # 6
1. Human freedom can refer to the capacity for self-determination, the context, the choice itself, or (fundamentally) the self formed by the three.
Capacity for self-determination
feeling of freedom because of the context one is in
The act/choice itself -- the experience of freely choosing
The self formed by the three
2. Moral education that begins in childhood through adulthood develops our capacity for authentic freedom.
Our capacity for self-determination and the exercise of freedom as capacity to do the good is a life-long process towards our fundamental option.
Moral education shapes the context our capacity for authentic freedom is situated in
While it is true that each person forms his/her own character but that does not exclude the fact that we are all influenced in very significantly ways by the groups, communities, and society we live in at any particular time, and by the Church also
We are tasked to teach our children to be free
3. This process takes place within the universal experience of both sin(original and personal) and the liberating grace of Christ in the spirit.
We have inherited the misuse of freedom known as original sin
"It is for freedom that Christ set us free"