My Network
by Jack Weber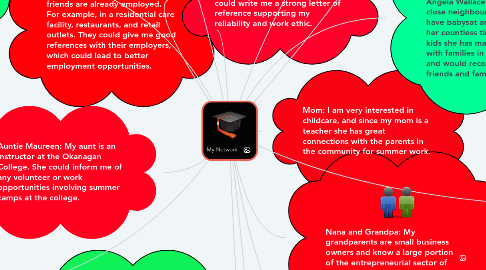 1. Mom: I am very interested in childcare, and since my mom is a teacher she has great connections with the parents in the community for summer work.
2. Nana and Grandpa: My grandparents are small business owners and know a large portion of the entrepreneurial sector of the community. This could help me get summer employment.
3. Close Friends: Many of my friends are already employed. For example, in a residential care facility, restaurants, and retail outlets. They could give me good references with their employers, which could lead to better employment opportunities.
4. Auntie Maureen: My aunt is an instructor at the Okanagan College. She could inform me of any volunteer or work opportunities involving summer camps at the college.
5. Tessa S. (Family Friend): Tessa is a family friend who is very involved in the community. She could write me a strong letter of reference supporting my reliability and work ethic.
6. Ms. Margaret (flute teacher) : I worked with her for many years as her flute student. I was involved in ensembles, concerts, and competitions under her guidance. She could attest to my work ethic and perseverance in a letter of reference. She could also help me find work or volunteer opportunities at summer music camps.
7. Ms. Pavlik: Supported me and my peers in our work at the middle school lunch store. I learned to work the cash register and function in a bustling environment. She could write me a letter of reference for work in a restaurant or cafe.
8. Ms. Sra (English teacher): Ms. Sra is one of my favourite teachers at KSS. Since I am an honours student, she could help me obtain a tutoring position, or write me a letter of reference for a competitive writing camp/program in the future.
9. Angela Wallace (neighbour): A close neighbour for many years, I have babysat and dog-walked for her countless times. Having young kids she has many connections with families in the community, and would recommend me to her friends and family.
10. Joanna Dorward (Cottonwoods volunteer coordinator) : I volunteered for cottonwood over the course of an entire year. She has offered to write me a letter of reference and provides me with connections in the healthcare field, which is something I'm very interested in.
11. MP (S. Fuhr): He can provide resources and information on Canadian summer youth employment.
12. Dr. Pat (small animal vet): This is my families veterinarian, and she could give information on volunteer work at the SPCA, as well as job opportunities in this field.
13. Librarian (Liz Burns): Liz is a librarian at the Okanagan Regional Library. I love books and reading, so she could give me useful information on any upcoming employment or volunteering positions at the library.
14. Owner of Lakeview Market (Barb Jones): She is my grocer, and regularly hires students for part time employment. Although I do not know her well, she is a close friend of my Grandmother.
15. Local Journalist: I am very interested in journalism as a future career, so job shadowing a person in this field would be very informative. They could also help me determine the path I would need to take to become a journalist in terms of education.