My Network
by Jaeden Lever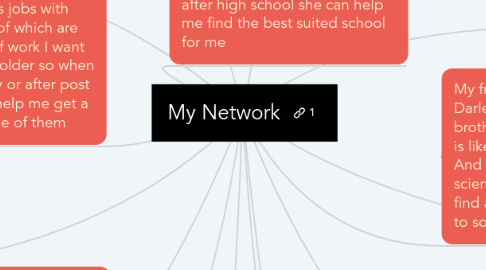 1. My friends Ben Magel & Matthew Darley, Ben & Matt are like brothers to me and Matt's family is like my second family to me. And Ben's Dad works in the science field so he could help me find a job in the fiture by talking to some of his co-workers for me
2. Mr. and Mrs. Darley, Mr. & Mrs. Darley are like second parents to me so I feel like both of them would be great references for a job or post secondary.
3. Father, my Dad has his own HVAC business and he does jobs with many people, some of which are involved in the line of work I want to get into when I'm older so when I'm in post secondary or after post secondary he could help me get a job by talking to some of them
4. My soccer coach's Justin & Mike, Justin is still going to university so he could help me with schooling and Mike works in forestry as of right now so he could possibly know someone through work or personally that works in sciences
5. Mother, my Mom is a teacher at aberdeen hall so when I'm looking for a university to go to after high school she can help me find the best suited school for me
6. Mr. Magel, Mr. Magel works in the science field and he could problem help with getting something like a job shadow
7. Auntie Anna, my Auntie Anna lives in Victoria and as of right now my plan for post secondary is to possibly go to UVIC and if that happens I could probably live with my Auntie Anna if I go to school there. And she could help me get into UVIC because she knows some professors there
8. Mr. Meraw, Mr. Meraw is one of the counselors at George Elliot Secondary School and part of his job is helping students find post secondary schools that would fit them best and help them find a job shadow for a future career they'd like to have
9. Mr. Yukich, Mr. Yukich is one of the science teachers at my school. He taught me Chem 11. He talked to me about how when he went to university he got his professor to help him out with getting a job well he went to school, so he could help me find a way to get a job like that well in go to post secondary, plus he could be a good reference to get into university because he taught me sciences.
10. Mr. Penner, Mr, Penner is another one of my science teachers, he taught me in grade 8,9, and 10. I feel like he would be another good reference for my university application because he taught the subject I want to carry on with in post secondary. And it also looks good to have teachers on your application.
11. Rob Lipson, Mr.Lipson is the Dean of Science at UVic. UVic is the university that I would like to go to after high school. One of my goals in my life would definitely be to meet Mr. Lipson and to be accepted into one of his science programs.
12. A captain at a police precinct, if I weren't to pressure my dream of being a forensic scientist I would probably try and be a detective, so I feel like meeting a police captain or even doing a job shadow would be a great experience. Plus even if I do become a forensic scientist I would be involved in police work anyways.
13. The head of the police program, so my George Elliot Secondary School has this police program you can sign up for if you want to be a cop in the future. So I feel like it'd be a great program to do even if I'm just going to be a forensic scientist, because I would see what I'd be like in a police setting.
14. Messi, when I go to university I would also like to continue on with my soccer career. So if I continue on with that I would like to meet one of my favorite soccer players and my inspiration, Messi
15. Henry Lee, Dr. Lee is one of the worlds most famous and well know Forensic Scientists. Dr. Lee is one of the best forensic scientists, so of course it would be an honor to meet him sometime in the future if I ever some how get the opportunity to.