My Network
by Garrett Anderson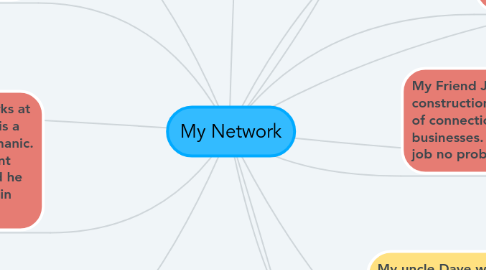 1. My Dad: Works at the Kelowna airport as the fire chief. He has many connections in the fire world as and in the airports.
2. My Friend Jack: Works in the construction world and has lots of connections with many businesses. He could find me a job no problem.
3. My Friend Brenden: Is in the dual credit program working towards his carpentry level 1. He works for a big construction contractor and could easily get me a job because I also know his boss very well.
4. My Best Friends Dad: Works at konquer Motorcycles and is a very well established mechanic. He knows so many different people in the trades world he could definitely [point me in the right direction.
5. My Family Friend Mike: Owns a glass business that runs throughout B.C and is very well known. I could easily get a job with him.
6. My Close Friend Jeff: Owns a concrete company in Fort McMurray, he is very successful and could find me a job no problem.
7. Dan Carbaneau: Is the owner of a construction company. i worked for him last summer and he was really impressed with my work.
8. Darcy Gibson: Owns a big construction company building homes. He is my brothers friends dad and he has already offered me a job for the summer.
9. Ryan Pellet: Is one of our family friends he works at kelowna fire department and could get me a job with the city of kelowna.
10. My Dads friend Dave was a heavy duty mechanic, he worked all around B.C. and could find me a job through all of his connections.
11. Al Bertram: Owns many big construction companies up north, I have work for him multiple times, he loves my work ethic and would offer me a job.
12. George is one of Al's friends he is now retired, but he used to own a big moving company in north vancover and he could point me in the write direction.
13. My uncle Dave works at norkam high school In kamloops as the wood shop teacher, he Is a carpenter by trade. He has lots of connections and could point me in the right direction.
14. My best friends sister Mackenzie works at loardco in Lake Country and she could put a good word in for me if i wanted to work there.
15. Ryans friend Dave owns a big air conditioning and heating company in kelowna. i could get a summer job there if i wanted.