Nursing Revalidation
by Ade Omomo-Rashed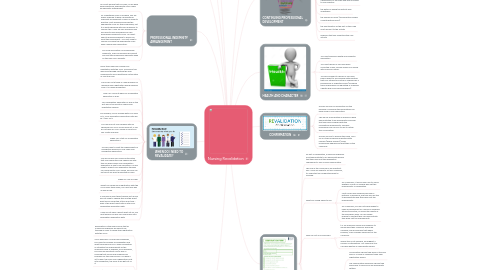 1. PRACTICE HOURS
1.1. 450 practice hours required
1.2. Whilst 450 hours might sound like a lot, it's important to remember this is over a three year period.
1.3. You should make sure that your practice hours reflect your current scope of practice, but they do not have to be related to your original field of practice when you first joined the register.
1.4. The hours that count towards this requirement are those in which you rely on your skills, knowledge and experience as a registered nurse or midwife. This may include providing direct care to patients but can also include managing teams, teaching others and helping to shape or run a care service.
2. CONTINUING PROFESSIONAL DEVELOPMENT
2.1. You must have undertaken 35 hours of continuing professional development (CPD) relevant to your scope of practice as a nurse or midwife in the three year period since your registration was last renewed, or when you joined the register.
2.2. Of those 35 hours of CPD, at least 20 must have included participatory learning.
2.3. You must maintain accurate records of CPD you have undertaken. These records must contain:
2.4. the CPD method
2.5. a description of the topic and how it related to your practice
2.6. the dates on which the activity was undertaken
2.7. the number of hours (including the number of participatory hours)
2.8. the identification of the part of the Code most relevant to the activity
2.9. evidence that you undertook the CPD activity
3. PRACTICE-RELATED FEEDBACK
3.1. You must have obtained five pieces of practice-related feedback in the three year period since your registration was last renewed or you joined the register.
3.2. s a nurse or midwife it is likely that you already receive a range of feedback, and the five pieces of feedback you collect can come from a variety of sources and in a variety of forms.
3.3. It can be written or verbal, formal or informal. It may come from patients and service users, colleagues and management. It can also include feedback from team performance reports or your annual appraisal.
3.4. We recommend that you keep a note of the content of any feedback you receive, including how you used it to improve your practice. You can use our template to help you record your feedback, and read examples of completed forms and templates that you might find helpful. Be careful not to record any information which may identify another person. You may find our guidance on non-identifiable information useful: please see page 14 in How to revalidate with the NMC.
4. WRITTEN REFLECTIVE ACCOUNTS
4.1. ou must have prepared five written reflective accounts in the three year period since your registration was last renewed or you joined the register. Each reflective account must be recorded on the approved form and must refer to:
4.2. an instance of your CPD, and/or
4.3. a piece of practice-related feedback you have received, and/or
4.4. an event or experience in your own professional practice
4.5. and how they relate to the Code.
5. REFLECTIVE DISCUSSION
5.1. You must have had a reflective discussion with another NMC registrant, covering your five written reflective accounts on your CPD and/or practice-related feedback and/or an event or experience in your practice and how this relates to the Code.
5.2. You must ensure that the NMC registrant with whom you had your reflective discussion signs the approved form recording their name, NMC Pin, email, professional address and postcode, as well as the date you had the discussion.
6. HEALTH AND CHARACTER
6.1. You must provide a health and character declaration.
6.2. You must declare if you have been convicted of any criminal offence or issued with a formal caution.
6.3. You will be asked to declare if you have been subject to any adverse determination that your fitness to practise is impaired by a professional or regulatory body (including those responsible for regulating or licensing a health and social care profession).
7. PROFESSIONAL INDEMNITY ARRANGEMENT
7.1. You must declare that you have, or will have when practising, appropriate cover under an indemnity arrangement.
7.2. As a registered nurse or midwife, you are legally required to have a professional indemnity arrangement in place in order to practise. Most employers provide the appropriate cover for their employees, but it is worth checking with your employer to confirm this. If you are self-employed you will need to have arranged your own professional indemnity cover. You don't need to provide evidence to prove you meet this requirement – you just need to confirm you have the appropriate cover when making your application.
7.3. For more information on professional indemnity, read our guidance document and visit the professional indemnity page on the main NMC website.
8. CONFIRMATION
8.1. We will ask you for information for the purpose of verifying the declarations you have made in your application.
8.2. This will be a declaration in which you have demonstrated to an appropriate confirmer that you have complied with the revalidation requirements. We have provided a form for you to use to obtain this confirmation.
8.3. We will ask you to provide the name, NMC Pin or other professional identification number (where relevant), email, professional address and postcode of the confirmer
9. WHEN DO I NEED TO REVALIDATE?
9.1. Every three years you renew your registration with the NMC. Previously this was done through meeting the Prep requirements and submitting a Notification of Practice form.
9.2. From April 2016 there is a new process for renewing your registration which replaces Prep. It is called revalidation.
9.3. How can I find out when my revalidation application is due?
9.4. Your revalidation application is due on the first day of the month in which your registration expires.
9.5. For example, if your renewal date is 30 April 2017, your revalidation application date will be 1 April 2017.
9.6. You can find out your renewal date by checking your NMC Online account. If you do not have an NMC Online account you can create one here.
9.7. When can I start my revalidation application?
9.8. You will need to meet the requirements of revalidation before you can make your revalidation application.
9.9. You will receive your formal notification that your application has opened no later than 60 days before your revalidation application is due to be submitted. You will need to submit your application through our online portal NMC Online, and you can do this at any point during the 60 days.
9.10. When do I pay my fee?
9.11. Whilst you renew your registration with the NMC every three years, you must also pay an annual fee.
9.12. If you have a direct debit already set up you will not need to change this and the direct debit will be collected at the usual time – even if the direct debit date is after your revalidation application date.
9.13. If you do not have a direct debit set up, you must ensure you pay your fee before your revalidation application date.
10. INFORMATION FOR CONFIRMERS
10.1. As part of revalidation, nurses and midwives must demonstrate to an appropriate person that they have met the revalidation requirements. This is called confirmation.
10.2. The role of the confirmer is an important one. If you are asked to act as a confirmer, it's important you understand what is involved.
10.3. What am I being asked to do?
10.3.1. As a confirmer, it will be your role to check whether a nurse or midwife has met the requirements of revalidation.
10.3.2. Most nurses and midwives will keep a portfolio of evidence, and they will use this to demonstrate how they have met the requirements.
10.3.3. As a confirmer, you are not being asked to make an assessment of a nurse or midwife's fitness to practise, or assess the quality of the individual's work. You are simply looking to see that they can demonstrate they have met the requirements.
10.4. Who can act as a confirmer?
10.4.1. t is for individual nurses and midwives to decide who their confirmer should be. However, we recommend that where possible, a line manager should act as the confirmer.
10.4.2. Where this is not possible, we suggest a number of alternatives. Our confirmer tool can help identify an appropriate person.
10.5. When should confirmation take place?
10.5.1. Confirmation should take place in the final year of a nurse or midwife's three-year registration period.
10.5.2. The confirmation discussion should take place face to face and in an appropriate setting.
10.5.3. Where a nurse or midwife has an appraisal, confirmation can take place as part of this.
10.5.4. We have produced specific information for confirmers guidance to help you in this role. It contains everything you need to know about acting as a confirmer.
10.6. Will you contact me as part of revalidation?
10.6.1. As part of the confirmation process, you will need to sign a form stating that the nurse or midwife you are confirming has met the revalidation requirements. You will need to include your contact details on this form – this will include your name, professional address and NMC or other professional Pin where relevant.
10.6.2. As a confirmer, we recommend you keep a record of those nurses and midwives you confirm, particularly if you're acting as a confirmer for multiple nurses and midwives.
10.6.3. Each year we will select a random sample of nurses and midwives to provide further information about their application. This process is known as verification. As part of this process, we will contact you as the confirmer to ensure the confirmation discussion has taken place.
10.6.4. It is important to know that nurses and midwives are not selected for verification because we have any concerns about their practice.
10.6.5. Nurses and midwives can use our simple confirmer tool to identify an appropriate confirmer.
11. INFORMATION FOR EMPLOYERS
11.1. Revalidation is the new process that all nurses and midwives will need to go through in order to renew their registration with the NMC.
11.2. As an employer of nurses and midwives, you need to be aware of revalidation and what this means for you. While revalidation is ultimately the responsibility of the individual nurse or midwife, as an employer, you have an important role to play in ensuring that nurses and midwives are prepared for the new process. You have a lot to gain: the more your organisation puts into revalidation, the more it will get out of it.
11.3. Revalidation is a chance to support, guide and invest in nurses and midwives of all levels and in all settings. Importantly, it provides an opportunity for employers and organisations to undertake a wider assessment of the quality and assurance systems they have in place.
11.4. Essential resources
11.5. We have developed a number of resources that will provide employers with all the information you need to know. You can download them using the links below.
11.6. Employers' guide to revalidation thumbnail
11.7. Employers' guide to revalidation
11.8. This guide explains each of the revalidation requirements and outlines how employing organisations can and should play a role in supporting nurses and midwives through each step.
11.9. It also outlines the minimum amount of support we expect an organisation to provide to the nurses and midwives they employ.
11.10. Download: Employers' guide to revalidation
11.11. e-portfolios and revalidation guidance sheet
11.12. This document sets out the role of e-portfolio tools in the revalidation process and outlines additional aspects including the data protection implications of these tools.
11.13. Download: e-portfolios and revalidation guidance sheet
11.14. Training materials
11.15. We understand that employers may want to gather nurses and midwives together to talk them through revalidation. We have designed a series of training materials for use by employers that will clearly set out the revalidation requirements and how nurses and midwives can meet them. The materials are split into individual workshops and can be found in Presentations and materials under Resources.
11.16. Each of the sessions can be delivered as standalone workshops or as part of a concurrent session. The materials come with comprehensive facilitator notes and involve interactive breakout sessions.
11.17. Each workshop is designed to be delivered to a maximum of 25 people.