Every Child Succeeds Act
by Carter Koehn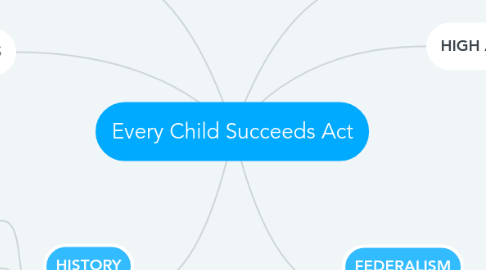 1. ADVANCES EQUITY
1.1. Promotes the idea for equal education for disadvantaged or high-needs children
2. HIGH ACADEMIC STANDARDS
2.1. Requires that all education is among "high academic standards" that comply with ESSA
3. ANNUAL TESTING
3.1. Ensures that the high academic standards are held within student, teachers, and the community through periodic testing (NCLB)
4. LOCAL INNOVATIONS
4.1. Supports evidence and local based interventions developed by local leaders and educators
5. HISTORY
5.1. December 10th, 2015
5.1.1. Passed with Bi-partisan support
5.2. Replaced ESEA
5.2.1. Elementary and Secondary Education Act, which had expanded federal power in education
5.3. Replaced NCLB
5.3.1. No Child Left Behind Act, retained annual/periodical assessments of knowledge.
6. FEDERALISM
6.1. Conservative: State Regulation of Government
6.1.1. Conservatives thought it was completely beneficial because state education could focus on learning instead of testing.
6.2. Democratic: Government regulation of education
6.2.1. Democrats preferred the older methods because it centered the regulation in the central government.
6.3. Libertarian: Anti-Central government regulation of education
6.3.1. Libertarians liked the idea, but thought it was proposed awfully and still left the central government with true regulation.