What Are The Pros and Cons of Social Networking Sites
by hsone byn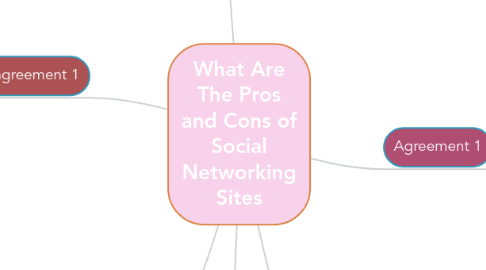 1. Agreement 1
1.1. We agree social networking sites are indeed useful in order to build connection with others.
1.2. Reasons
1.2.1. This is because the wide range of social networks allow people to expose themselves to social circle.
1.2.2. A lot of people find it easier to approach someone online instead of in real life.
1.3. Evidence(s)
1.3.1. Cystic Fibrosis Trust indicates that people are more comfortable and genuine with their online friends rather than real mates.(Quinn B,2011)
1.3.2. The study also shows that users of such sites have 121 online friends compared to the physical ones. (Quinn B, 2011)
2. Introductory
2.1. The article written by Strickland, J. is about pros and cons of social networking sites.
2.2. -One of the benefits of social networking sites is enabling users to make connection with people. -Next,it becomes easier to organize an event and invite friends. -Promoting an artist's work is also the pro the social networking sites. -Social networking also act as application platforms too. - It also get people free from jail.
2.3. -The drawback of social networking sites includes identity is likely to be stolen. -Besides,scammers use these sites to trap people into downloading malicious software. -Lastly,social networking sites can be both overwhelming and addictive at the same time.
3. Agreement 2
3.1. We also acknowledge private information is likely to be stolen
3.2. Reasons
3.2.1. Majority scammers are intelligent enough to hack people's account based on a few personal data.
3.2.2. It is also due the lack of cyber security. It allows the hacking process to be unnoticed.
3.3. Evidence
3.3.1. As mentioned by Garcia D (2017), the persistent traces of our online social interaction can slowly accumulate enough data to effectively diminish the decision power of an individual to keep personal information private.
4. Disagreement 1
4.1. However we deny that social networking sites help to organize an event and invite friend effortless.
4.2. Reasons
4.2.1. It is only easy as if as everyone has read and understand the message due to overwhelming notification.
4.2.2. This may somehow cause conflicts and misunderstanding between one another.
4.2.3. Other than that, many people choose to ignore the message that sent by the sender.
4.3. Evidence(s)
4.3.1. According to Webb.A(2011)an active group can update posts very fast meaning you could well miss out on posts.
4.3.2. According to Farouk Radwan, M.(non-dated) people tend to ignore other due to they feel like they are under sender's control.He also claims that some of them subconsciously ignore or forget messages sent.
5. Conclusion
5.1. In conclusion, we agree that social networking sites are good tool to make connection with public yet there is risk of personal identity be theft. Nevertheless, we do not agree with online networking sites help to facilitate an event.
5.2. All of all, people should be careful when using social networking sites.
6. References
6.1. Farouk Radwan,M. (non-dated) 'Why do people read messages and don't respond - Psychological analysis' from Why do people read messages and don't respond - Psychological analysis | 2KnowMySelf
6.2. Garcia D 2017 'Science Advances vol. 3, no. 8' from Leaking privacy and shadow profiles in online social networks
6.3. Quinn B, 'Social network users have twice as many friends online as in real life' viewed on 9 May 2011 from Social network users have twice as many friends online as in real life
6.4. Webb.A 2010, '6 Pros and 6 Cons Of Using Facebook Groups To Organise An Event11' from 6 Pros and 6 Cons Of Using Facebook Groups To Organise An Event