Persuasion for a Class Pet
by Taylor Dillon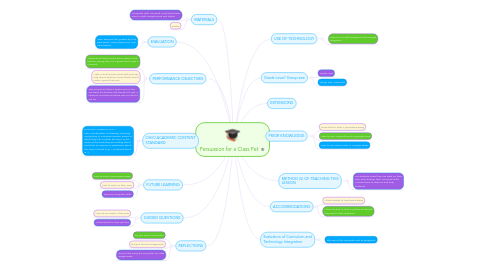 1. PERFORMANCE OBJECTIVES
1.1. Students will type a persuasive essay to the teacher saying why it is a good idea to get a class pet.
1.2. Make a small power point with pictures only about what you would think would make a good class pet.
1.3. This project will take 2 weeks and on the 3rd week the teacher will decide if to get a class pet and have students vote on what it will be.
2. Grade Level/ Group size
2.1. Grade: 2nd
2.2. Group Size: Individual
3. PRIOR KNOWLEDGE
3.1. Know how to write a persuasive essay
3.2. How to use Microsoft word or google docs
3.3. How to use Power Point or Google Slides
4. OHIO ACADEMIC CONTENT STANDARD
4.1. CCSS.ELA-LITERACY.W.K.1 Use a combination of drawing, dictating, and writing to compose opinion pieces in which they tell a reader the topic or the name of the book they are writing about and state an opinion or preference about the topic or book (e.g., My favorite book is...).
5. FUTURE LEARNING
5.1. How to write a persuasive essay.
5.2. How to work on their own.
5.3. Improve computer skills.
6. METHOD (S) OF TEACHING THIS LESSON
6.1. Let students show they can work on their own and develop their computer skills. Just be there to observe and help students.
7. GUIDED QUESTIONS
7.1. Why do we need a class pet?
7.2. What should or class pet be?
8. MATERIALS
8.1. Computer with Microsoft Word and Power Point or with Google Docs and Slides
8.2. Printer
9. USE OF TECHNOLOGY
9.1. Uses of Microsoft programs and Google programs.
10. ACCOMMODATIONS
10.1. Allow student to hand write essay
10.2. Allow student to draw a picture of the pet they want in the classroom.
11. EXTENSIONS
12. EVALUATION
12.1. Their essay will be graded by if its persuasive, correct grammar, and punctuation.
13. REFLECTIONS
13.1. Do you want a class pet?
13.2. Did you like this assignment.
13.3. Do you like using the computer for class assignments.
14. Evaluation of Curriculum and Technology Integration
14.1. The use of the computer and its programs.