Does student interaction with a digital platform develop transliteracy skills?
by Heather Feinberg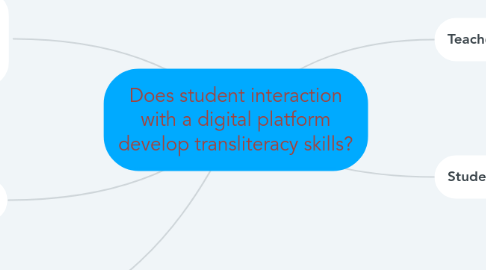 1. Teacher
1.1. How can technology be used to help with reading and writing lessons in the classroom?
1.1.1. What tools are the most beneficial?
1.2. Does implementation of Google Classroom help increase student literacy skills?
1.2.1. What lessons would help with transliteracy? Google Survey
1.3. Google Survey... What is the definition of transliteracy? Do you think these skills are needed? Why or Why not?
2. Student
2.1. What technology tools will help with college and career readiness?
2.1.1. Google Survey to students asking this very question!
2.2. Are Transliteracy Skills needed in today's classrooms?
2.2.1. Do you think Google Classroom helped increase your literacy skills? Why?
3. The Benefits of Technology in the classroom... Why should technology be integrated into ELA?
3.1. College and Career Readiness
3.2. Ready for middle school and beyond
3.3. Learn to use digital tools safely now!
3.4. How did I get to this question... the need for 21st skills before they go to Middle School!
4. Advice to other teachers
4.1. Lessons for the classroom. Go a little deeper..make it user friendly for colleagues
4.2. The why of technology based learning
4.3. What can I provide that no one else has? Google Classroom Toolkit!
4.4. Google Classroom is just one platform, what else can I recommend?
5. Technology Tools for the Elementary Classroom
5.1. Google & Google Classroom
5.2. Flipgrid
5.3. EdPuzzle