Ing-form
by Sofie Hyldevang Otto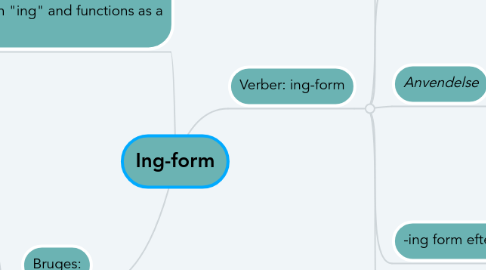 1. A "Gerund" is a verbal that ends in "ing" and functions as a noun.
1.1. Gerund as subject: Traveling might satisfy your desire for new experiences. (Traveling is the gerund.)
1.2. Gerund as direct object: They do not appreciate singing. (The gerund is singing)
1.3. Gerund as a predicate noun: My cats favourite activity is sleeping. (The gerund is sleeping)
1.4. Gerund as object of preposition: The police arrested him for speeding. (The gerund is speeding)
2. Verber: ing-form
2.1. Former
2.1.1. a) Negativ form: Not knowing what to do, I decided to rest
2.1.2. b) Perfektum: Having finished my work, I went home
2.1.3. c) Passive: She enjoys being talked about
2.2. -ing form og forskellige ordklasser
2.2.1. Adjektiv
2.2.1.1. There was a smoking cigarette in the ashtray
2.2.2. Verbum
2.2.2.1. He is working much these days
2.2.3. Substantiv
2.2.3.1. Running is healthy
2.3. Anvendelse
2.3.1. a) I udvidet tid: She was swimming
2.3.2. b) Efter præpositioner: There is no point in waiting
2.3.3. c) Efter visse verber: I actually enjoyed cleaning the flat
2.3.4. d) Som bisætning: Feeling tired, I went to bed
2.4. -ing form efter præpositioner
2.4.1. Det er normalt at anvende -ing form efter præpositioner, men ikke infinitiv
2.4.2. Den danske navnemåde omdannes til - ing form på engelsk
2.4.3. He has succeeded in finding a new job
2.4.3.1. Det lykkedes ham at finde et nyt job
2.4.4. He apologized for offending her
2.4.4.1. Han undskyldte for at fornærme hende
2.5. -ing form efter "to"
2.5.1. "To" efterfølges normalt af verbet i infinitivform
2.5.1.1. "I want to sit down" - Dog er der nogle vendinger med "to", såsom "Look forward to, object to, be used to..." som betragtes som undtagelser fordi "to" er efterfulgt af et substantiv.
3. Bruges:
3.1. Når det sker lige NU
3.2. Det er beskrivende
3.3. Ved paraelle forløb
3.4. Afbrudte forløb